Wednesday musings with Les Miles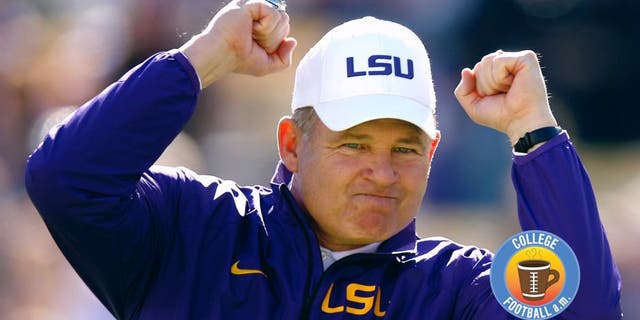 NEWYou can now listen to Fox News articles!
LSU head coach Les Miles touched on a number of topics Wednesday pertaining to his football team.
The group of receivers haven't quite performed up to expectations this year. Malachi Dupre is the leading pass-catcher with only 122 yards receiving through four games. LSU does run the ball a great deal of the time, and this naturally does limit reception opportunities.
With that said, LSU receivers dropped five passes in the victory last week over Eastern Michigan. It's a component of the offense which needs improvement. Miles exuded confidence Wednesday when addressing the receiver corps.
"Sometimes, you don't play as well in the passing game as you'd like," said Miles. "But if you continue to block and are a significant piece of the offense, you'll get back on track catching the football."
Miles also lauded the coaching of defensive coordinator Kevin Steele and defensive line guru Ed Orgeron. LSU has 11 sacks through four games, which is already more than half of the total accrued during the entire 2014 season (19). Lewis Neal and Davon Godchaux have been the main beneficiaries, each notching 3.0 sacks thus far.
"I enjoy how they coach," said Miles. "I enjoy the results. I think our kids enjoy being coached by them. More importantly, you're demanding to a point, and yet this is why. The 'why' issue is so important. You don't just coach and not tell them why. Ed and Kevin both do a great job in describing 'this is why we do it.'"
On the injury front, both Dillon Gordon and Jalen Mills dressed for practice on Wednesday. The return of Mills would enhance an already deep and talented secondary. Gordon would help LSU's vaunted rushing attack even further with his ability to block at a high level.
"I don't know exactly how much or where (Mills will play), but there will be a chance," said Miles.