WATCH: UNLV freshman Derrick Jones jumps over three teammates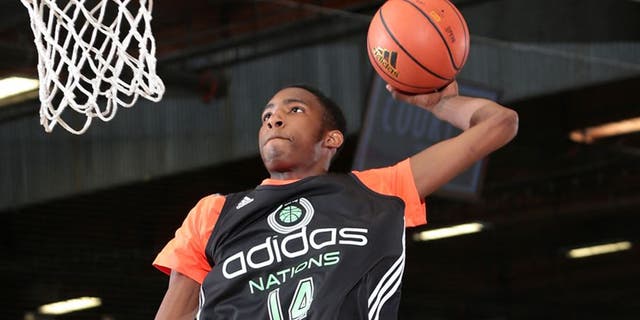 The UNLV freshman cleared three teammates on his way to another slam dunk title. Kelly Kline Kelly Kline/Getty Images
After racking up slam dunk titles as high school phenom, UNLV freshman Derrick Jones captured his first college crown, jumping over three teammates to win Rebel Madness slam dunk contest on Thursday night in downtown Las Vegas.
He didn't just jump over any three teammates. Jones cleared 7-foot McDonald's All-American Stephen Zimmerman, a slightly shorter Ben Carter, who stands 6-foot-8, and freshman guard Austin Starr to complete the one-handed, lefty jam.
Jones defeated fellow newcomer Ike Nwamu, another high-flyer, in the finals.
What made the performance more impressive is that Jones is coming off an ankle injury, according to Matt Youmans Las Vegas Review-Journal.
The Runnin' Rebels were picked to finish fourth in the Mountain West Conference this season.