Watch this guy take a Mark Hunt left hand like a champ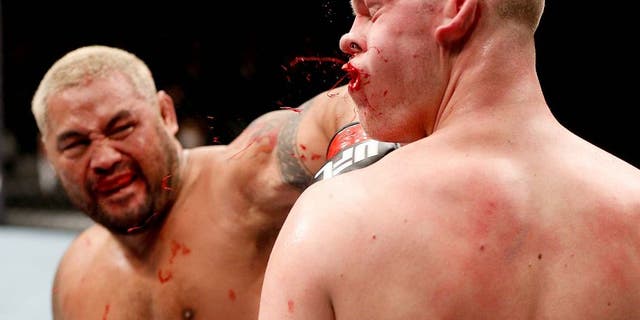 NEWYou can now listen to Fox News articles!
Eight of Mark Hunt's 11 pro MMA wins have come by way of knockout. Brutal, devastating knockouts.
So when we heard that non-UFC fighter took a clean body shot from Hunt, we had to look into it. For entertainment and safety reasons, of course.
The "Super Samoan" appeared in a video looking fit and trim a little under two months out from his heavyweight fight against Frank Mir in Brisbane, Australia. But while we were briefly distracted by Hunt apparently weight loss, we quickly snapped back into to focus as we realized, "this guy is making a terrible decision."
Check it out for yourself.
Pretty impressive right? I mean, we know it was left hand, but we've seen Hunt drop opponents with less.
The guy, referred to as "Noodles" in the video, is Emiliano Rivera, an amateur kickboxer. Here's a video of him in action, dropping his opponent with a Mark Hunt-like right hand.