Watch the red cards that made the Copa America Centenario final 10v10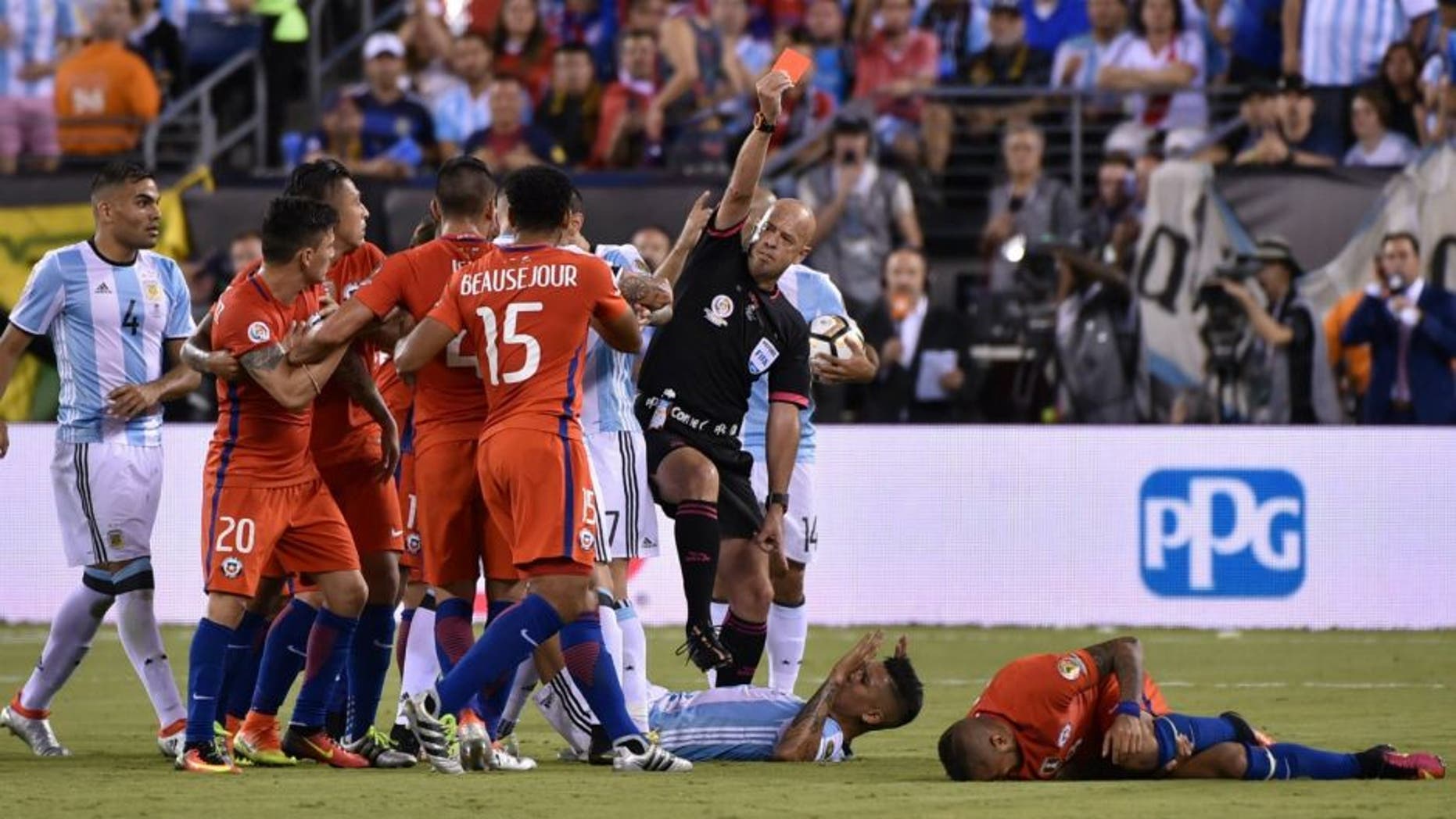 Argentina and Chile entered the Copa America Centenario final with two clear gameplans. And they both got tossed out the window in the first half because both sides were reduced to 10 men thanks to red cards.
First, Marcelo Diaz was yellow carded in the 16th minute and then 11 minutes later, Diaz was shown another yellow card for impeding Lionel Messi.
Did he deserve a yellow card for that? Chile obviously didn't think so, while Argentina were happy to take the man advantage.
The rule that on obstructing a player is as follows:
"Impeding the progress of an opponent means moving into the path of an opponent to obstruct, block, slow down or force a change of diretion by an opponent when the ball is not within playing distance of either player.
"All players have a right to their position on the field of play, being in the way of an opponent is not the same as moving in the way of an opponent."
The question is whether you believe Diaz was simply standing there, with the right to his position on the field, and was simply run into by Messi, or whether he moved to get in Messi's way.
Argentina only had their advantage for 16 minutes, though. That's because Marcos Rojo was shown a straight red for ... well, it wasn't entirely clear.
Rojo does go in from behind, but he barely makes contact with Arturo Vidal, if he makes any contact at all. To show him a straight red card for this is almost indefensible.
That referee Heber Lopes erred on the side of cards is no surprise. He has a reputation for being quick to show cards, red and yellow, so this is typical for him. But that won't make either team feel any better about being reduced to 10 men.
MORE FROM FOX SOCCER