WATCH: Springer talks Astros' postseason hopes on 'MLB Tonight'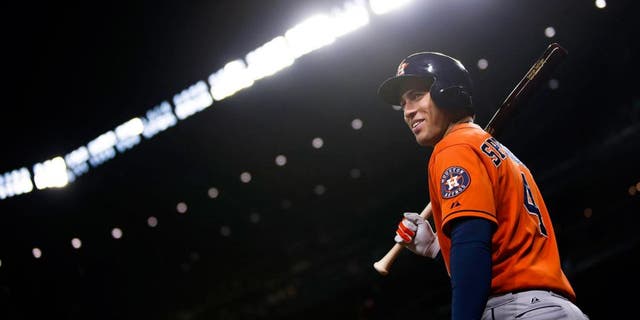 NEWYou can now listen to Fox News articles!
On the eve of the Houston Astros Wild Card Game showdown with the New York Yankees, outfielder George Springer was a guest on 'MLB Tonight'.
During his four-minute chat, Springer spoke about the mindset of the Astros as they prepare to deal with Masahiro Tanaka in hopes of advancing to the ALDS to take on the Kansas City Royals.
Springer, a Connecticut product, also touched on his painful wrist injury from earlier in the year, what it's like playing alongside Jose Altuve and Carlos Correa, the Asrtos' front office's moves and more.
Because it's worth sharing again, here's Springer disrupting a mid-celebration interview in the Houston clubhouse after the team clinched the second Wild Card spot on Sunday afternoon, as shared by MLB.com's Chandler Rome:
Look for Springer and the Astros to have an even bigger party should they win on Tuesday night in the Bronx.