WATCH: Miami Marlins' Marcell Ozuna hits home run off top of foul pole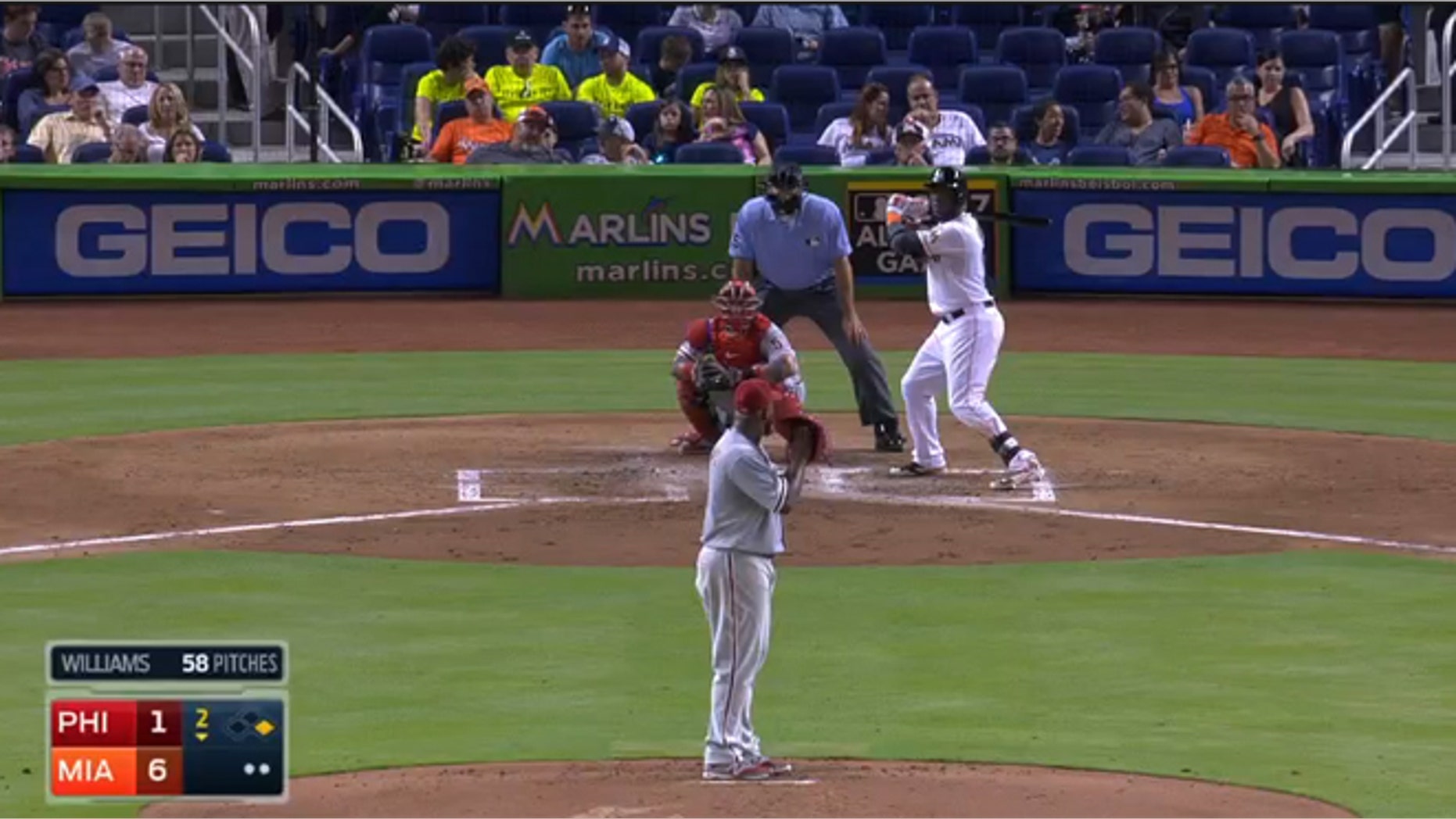 MIAMI – This is a something you've probably never witnessed before at the ballpark: The Miami Marlins' Marcell Ozuna blasted a home run Thursday night that bounced off the top of the foul pole.
"I have never seen something like that," Marlins infielder Martin Prado said. "I've seen Giancarlo (Stanton) hit moon shots, but this one was up there with him. It was good to see him swing the bat like that. He can be the guy that turns the game around with any swing."
Your browser does not support iframes.
"I don't think I've ever seen that, maybe my eyes are deceiving me," Marlins broadcaster Rich Waltz said of the 434-foot shot.
The Marlins scored eight runs in the first two innings and ended up needing every one of them.
Prado homered and drove in three runs, and the Marlins held on for a 9-7 win over the Philadelphia Phillies.
"I'm glad for what we had the first two innings," Marlins manager Dan Jennings said.
Adeiny Hechavarria had two hits to extend his career-best hitting streak to 13 games for the Marlins, who have won four of five while scoring at least six runs in each of the five games.
"It's been a roller coaster all year offensively so it's nice to see guys approaching and playing the game the way it should be played," Prado said.
Brad Hand (3-3) benefited from the run support to earn the victory, allowing one run and four hits in six innings. He walked two and struck out five in his 97-pitch outing.
"Just to get through six with a lead like that was nice," Hand said. "I wanted to go seven or eight, but I threw way too many pitches to do that."
A.J. Ramos pitched the ninth for his 21st save in 26 opportunities.
Philadelphia starter Jerome Williams (4-9) got just five outs, allowing eight runs and eight hits.
"Everything snowballed," Williams said. "I couldn't throw the ball where I wanted to."
The Marlins led 8-1 after two innings, but had to withstand a late-inning rally from the Phillies, who have dropped five of six.
"We got in a hole and tried to dig ourselves out," Phillies interim manager Pete Mackanin said. "Our bats were silent for about five innings and then we started digging. It was a hell of a comeback. We had a good chance to win that game."
Miami reliever Scott McGough struggled in his major league debut in the seventh with an 8-1 lead. McGough allowed five hits, one more than the Phillies had against Hand, and three runs.
Freddy Galvis, César Hernández, and Odubel Herrera drove in the runs for the Phillies to pull to 8-4. Bryan Morris relieved McGough and got Jeff Francoeur to fly out to end the inning with two runners in scoring position.
Galvis' triple in the eighth drove in a run and he later scored on a base hit by Carlos Ruiz to pull the Phillies within 8-6. Mike Dunn came on to get the final two outs and the Phillies stranded two more runners in their comeback attempt.
Prado hit a sacrifice fly in the bottom of the eighth scoring Ichiro Suzuki, who tripled off the wall, to push the lead to 9-6.
Cody Asche hit a pinch-hit home run with one out in the ninth, but Ramos struck out the final two batters to preserve the win.
Justin Bour, Derek Dietrich and Hechavarria each drove in a run in the first inning for the Marlins, who also scored a run on a wild pitch by Williams to lead 4-1.
The Marlins sent nine batters to the plate in each of the first two innings as Williams was unable to get into a groove.
Prado's two-run homer to left field put the Marlins ahead 6-1. It was his first home run since June 12 against Colorado. Ozuna's two-run home run was his second homer in two games giving the Marlins an 8-1 lead in the second.
Ozuna is hitting .250 (5 for 20) in six games since being recalled after a 33-game stint with Triple-A New Orleans.
Based on reporting by the Associated Press.