Watch Brandon Marshall make leaping catch while Patrick Peterson yanks on his facemask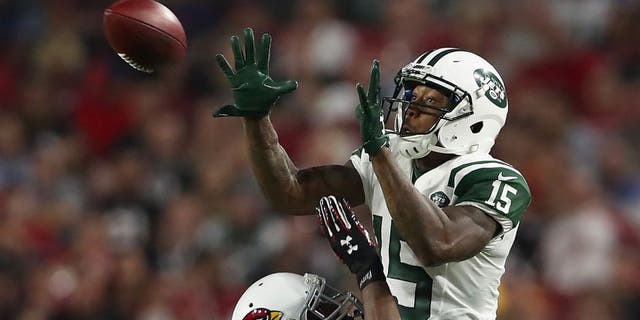 NEWYou can now listen to Fox News articles!
It's rare to see star cornerbacks defend star receivers nowadays. But that's exactly what happened Monday night, when Cardinals Pro Bowl cornerback Patrick Peterson lined up across from Jets top target Brandon Marshall.
Late in the second quarter, Marshall got the better of the matchup, but it wasn't because Peterson made a mistake. Marshall just outplayed him.
Ryan Fitzpatrick opted to challenge Peterson on second-and-3 with 59 seconds left in the half, throwing a back-shoulder pass to Marshall, who leaped over Peterson to haul in the catch despite getting his facemask almost yanked off his helmet.
After the play, there was no trash-talking between the two. Just respect from one great to another.