Watch Anthony Rizzo and umpire make up after Rizzo apologizes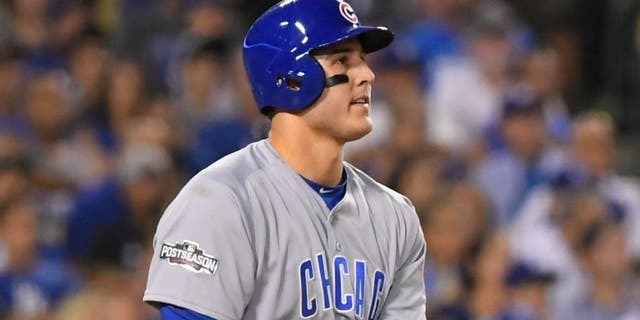 In the top of the fifth inning of the Chicago Cubs-Los Angeles Dodgers NLCS Game 4 on Wednesday night, Cubs first baseman Anthony Rizzo dropped his bat (his teammate's bat, actually) and began to walk toward first base on what he thought was ball four from reliever Pedro Baez. But Rizzo assumed wrong -- home plate umpire Angel Hernandez called it a strike and then called Rizzo back to the plate.
After returning the the batter's box, Rizzo crushed Baez's next pitch to extend the Cubs' lead to 5-0.
But Rizzo didn't forget about his mistake. Microphones picked up his conversation with Hernandez during his next at-bat in the seventh inning. Listen:
After the 10-2 Cubs win to even the series at 2-2, Rizzo addressed the play and his respect for umpires (transcribed by MLB.com):
Q. The TV cameras picked up what people on social media are calling a cool moment of sportsmanship between you and Angel Hernandez. Can you just talk about that?
RIZZO: Yeah, well, the umpires, all of the umpires they're out here at the highest level doing their best, and we're competing at our best and they're competing. So on a pitch that I disagreed with and to think it was a ball and then him call a strike, I don't like showing up the umpires. They're out here working their tails off 162 like we are. There is no home for them. They're on the road the entire season. So just to let him know that, hey, my fault there. I probably should have waited a little longer to not just assume it was a ball. That's just the way I am. They're working as hard as we're working, and it's just different perspectives.
Umpiring is like being a fantasy sports league commissioner: It's a pretty thankless job and you're a frequent recipient of verbal abuse. Rizzo didn't commit much of an affront in the fifth, but good for him for owning the mistake and recognizing the plight of the umpire after the game.