Vikings vs. Lions countdown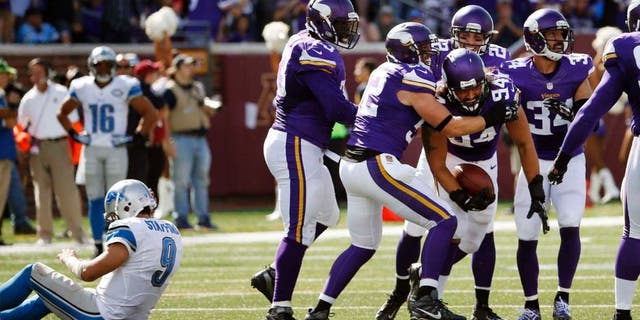 The city of Detroit doesn't offer much in the way of tourism these days. Detroit filed for Chapter 9 bankruptcy in 2013, leaving the city with decreased street lights, a decreasing population and widespread urban decay.
The Minnesota Vikings, however, have other reasons for being wary of a trip to Detroit this Sunday afternoon. The Vikings simply aren't comfortable traveling anywhere in recent years. Minnesota hasn't won on the road in nearly a calendar year -- since a 19-13 overtime victory at Tampa Bay, last Oct. 26.
This week, the 3-2 Vikings face a team that rang up 546 total yards in its last game, when Detroit edged Chicago, 37-34 in overtime.
But the 2015 Lions are just 1-5 overall, and the Vikings beat them by a 26-16 margin in Week 2 in Minneapolis. Minnesota also holds a decisive, 70-36-2 lead in its all-time series with Detroit. Perhaps those facts will put coach Mike Zimmer's traveling caravan at ease this weekend.
Let's take a closer look at this Sunday's NFC North showdown, in which the visiting Vikings are favored by 2.5 points.
3 things to watch:
-- Can the Vikings secure that elusive road win? Zimmer, in his second-year as the Vikings' sideline general, still seeks his first NFC North road win. Minnesota went 2-6 overall on the road last season, including a gut-wrenching, 16-14 loss at Detroit in Week 15. The Vikings are the only team in the NFL this season that's both undefeated at home (3-0) and winless on the road (0-2). The Vikings are 32-22-1 all-time in Detroit.
-- Can Adrian Peterson return to All-Pro form? Minnesota's star running back still ranks second in the NFL this season in rushing yards per game (86.4), but his last couple outings have been underwhelming. Last week, in the Vikings' 16-10 win over the Chiefs, Peterson was held in check, rushing 26 times for 60 yards. Over the last two games, Peterson is averaging 3.36 yards per carry. Here's the good news for Purple faithful: Peterson has eight career 100-yard rushing games against Detroit, which includes his 134-yard effort in Week 2's 10-point win over the Lions. He'll be on a fast track at Ford Field, too.
-- Can Minnesota's ascending defense get takeaways against undisciplined Detroit? The Lions have 18 giveaways this season. Not only is that the most giveaways in the NFL, it's four more total giveaways than the next-closest team (Philadelphia, 14). Detroit has surrendered a league-worst 59 points off turnovers. If you're a standout Vikings defender like Harrison Smith (team-high 41 tackles this season) or Eric Kendricks (career-high 13 tackles last week) you're foaming at the mouth upon hearing those stats.
2 things to remember:
-- The Lions are struggling, but they're still talented. While Detroit has the worst rushing attack in the league this season (66.5 yards per game), it still possesses a dangerous aerial attack. Quarterback Matthew Stafford has 1,610 passing yards this season, and veteran receiver Calvin Johnson's 38 current receptions are third-best in the NFC. And, while the Lions' defense is yielding 28.6 points per game (29th in the league), it nevertheless boasts some talent, too, featuring productive veterans like linebacker Stephen Tulloch (48 tackles, third-most in the NFC) and safety James Ihedigbo (three forced fumbles). Detroit might view its clash with Minnesota as a potentially season-saving game.
-- Teddy Bridgewater has been erratic against Detroit. Bridgewater, the Vikings' second-year QB, has been both efficient and ugly when playing the Lions. He was solid in Week 2 this season, going 14 for 18 for 153 yards and one score. On Oct. 12, 2014, however, Bridgewater had the worst passer rating (41.3) of his young career in a 14-point home loss to Detroit, as he threw three interceptions. Bridgewater has piloted Minnesota to just 179.6 passing yards per game this season, which ranks worst in the NFL. Perhaps rookie standout Stefon Diggs (13 receptions the last two weeks) can help Bridgewater tame the Lions this week.
1 key matchup:
Vikings secondary vs. Matthew Stafford
Stafford, Detroit's 27-year-old signal-caller, receives the constant criticism you might expect for a former No. 1 overall draft pick. But no one can deny he has one of the strongest arms in the NFL. Stafford is also gathering momentum; in last week's overtime win against Chicago, he registered his ninth career 400-yard passing game, with 405 yards. The Lions star's 1,610 passing yards and 10 passing TDs rank fourth-best in the NFC this season. The onus will be on cornerback Xavier Rhodes and the Vikings' secondary to keep Stafford in check this Sunday.
Follow Kelly Beaton on Twitter