Vikings receiver Patterson thriving in new role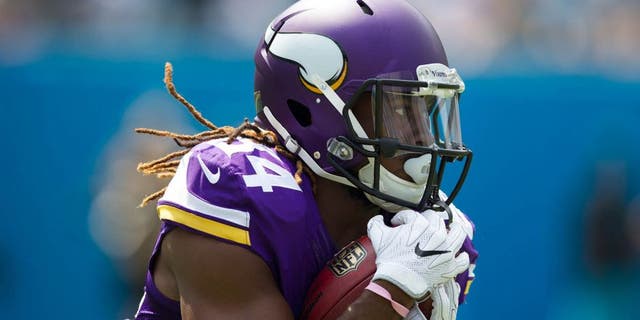 EDEN PRAIRIE, Minn. -- The Minnesota Vikings went three-and-out on their first possession, and the punt coverage team came out for a kick from the end zone.
The gunners on the outside of the formation quickly closed in as the ball descended from the air, and the pressure forced New York Giants returner Dwayne Harris to drop it on the turf as he tried to run forward.
Marcus Sherels recovered, and the Vikings went the other way for a touchdown in six plays to set the tone for a game they controlled from start to finish.
The purple blur racing up the field to track the punt was none other than Cordarrelle Patterson.
"I put my hand out and just tried to hit the ball," Patterson said.
This wasn't the role he or the Vikings envisioned when they packaged four lower picks to trade into the end of the first round of the 2013 draft to select the raw-but-speedy wide receiver out of Tennessee.
He excelled at returning kickoffs right away, but that was supposed to be the bonus contribution on top of the dual threat he could provide the offense as a receiver and a runner.
Over the last half of his rookie season, that's exactly what he offered.
As the new system was rolled out in 2014 under offensive coordinator Norv Turner, Patterson struggled to establish himself as an integral part of it and soon became an afterthought in the game plan.
Last season brought more of the same, and the Vikings declined to exercise the fifth-year option on his contract.
Facing a crossroad in his fledgling career , Patterson began to prove to the coaches this summer that he was worth a roster spot for more than kickoff returning.
"What he has really made a commitment to is being consistent," Turner said.
Relying on his Christian faith to deal with the frustration of scant playing time, Patterson was similarly grounded by his girlfriend and young daughter.
"Sometimes your mind can get lost here in football," Patterson said, "but they keep my mind going so good, I don't know how to repay them."
Not only was he making an impact on special teams in the game on Monday night, but he was on the field for 36 plays with the offense, 49 percent of the snaps. Sam Bradford targeted him six times, and he caught five passes for 38 yards.
"We feel like if we can get the ball in his hands, good things will happen," Bradford said. "We've just got to keep finding ways to get him the ball."
Coach Mike Zimmer's response to a recent question about whether Patterson would've bought into the alternative role a year ago was "probably not." Clearly, Patterson has taken ownership of his career.
"It's good for all guys to see," Zimmer said. "If you work hard, good things come."
Patterson has a few peers who also reinvented roles to extend their careers.
Wide receiver Darrius Heyward-Bey was the seventh overall pick in the 2009 draft by Oakland after running a 4.3-second 40-yard dash at the NFL scouting combine, but he topped out at 975 yards receiving in 2011 and spent one season for Indianapolis before settling with Pittsburgh in 2014 after carving out a role on kick coverage. Heyward-Bey still has a niche in the offense, catching a 31-yard touchdown pass last week, but his greatest value is on special teams.
Terrelle Pryor, who also started his career with Oakland as a quarterback who was once a prized recruit at Ohio State, was out of the league in 2014 before returning as a wide receiver for Cleveland. This season, he leads the team with 290 yards.
Sometimes staying in the league can require such drastic shifts.
"I don't look at what happened back then," Patterson said. "God gave you your eyes in the front of our head to see where you're going, not where you've been."