Vikings preseason: What we've learned so far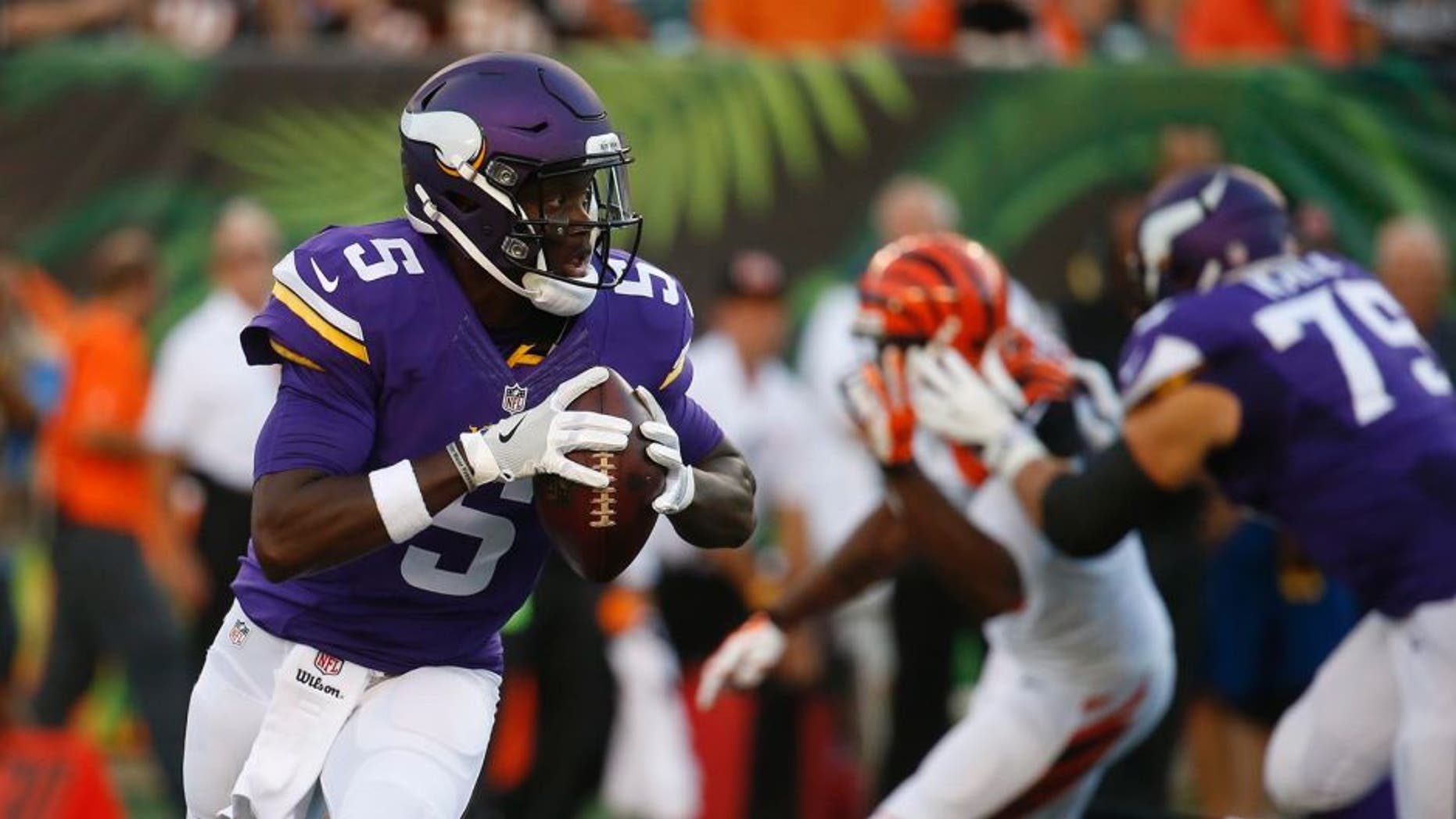 The Minnesota Vikings are off to a promising preseason start after a pair of exhibition matchups on the road.
The Vikings kicked things off with a 17-16 win over the Cincinnati Bengals, before topping the Seattle Seahawks 18-11.
Teddy Bridgewater led the way in Cincinnati, dropping a 49-yard touchdown pass into the arms of receiver Charles Johnson, before veteran backup Shaun Hill took over in the follow-up.
Adrian Peterson is still on the sidelines despite recent comments suggesting that he could make an uncharacteristic preseason appearance, while Bridgewater's absence in Seattle caused a brief stir.
FOX Sports North takes a deeper look at the Vikings' preseason victories, and what it all means heading into their first game at U.S. Bank Stadium.
The offensive line remains a work in progress
The Vikings made their porous offensive line a priority over the offseason, adding former San Francisco 49ers guard Alex Boone and Cincinnati Bengals veteran Andre Smith.
After a shaky start in front of Bridgewater in their first preseason game Boone, Smith, Matt Kalil, John Sullivan and Joe Berger looked better against the Seattle Seahawks.
"I think we did some really good stuff on pass protection," Smith told Vikings.com. "There's always room to improve in the run game and whatnot, but I think we did some really good stuff as far as keeping the quarterback clean the entire night."
Veteran backup Shaun Hill completed 10 passes for 129 yards, but the group's run blocking was an issue. Jerick McKinnon managed just 15 yards on nine carries, while bruiser Matt Asiata contributed just two yards on three carries.
Shaun Hill can still sling it
Regardless of why it happened Hill's start against the Seahawks was an opportunity for the Vikings to evaluate the 15-year veteran after he completed just two passes last season. He turned in a solid, if unspectacular, performance.
Hill played most of the first half, setting up the Vikings' only touchdown with a 32-yard pass to tight end Kyle Rudolph.
The Vikings are thin at the position following the loss of last year's third string quarterback Taylor Heinike, who injured a tendon in a freak off-field accident. Former Wisconsin Badgers quarterback Joel Stave took over from there, completing six passes on 14 attempts for 67 yards.
Post hype, Moritz Bohringer is probably a long-term project
Bohringer was targeted just once in his preseason debut, and didn't get any work with the offense against Seattle, taking just three snaps on special teams.
Veteran cornerback Terence Newman was seen giving the German rookie some pointers after practice over the weekend.
"He's a little behind the eight-ball if you ask me, just because he's come from a different level of the game, so I'm just trying to help him get better at what he wants to get better at," Newman told reporters. "He's got some athletic ability, but I'm looking forward to seeing what he does when he gets on the field."
Do not ask Mike Zimmer about Teddy Bridgewater's absence
Seriously. Don't.
Follow Ryan Lund on Twitter