Vikings' Boone returns from concussion protocol with new helmet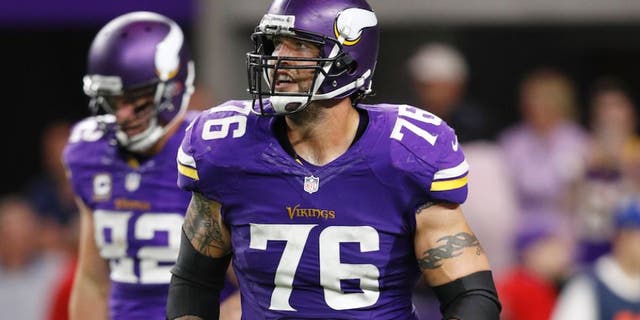 Minnesota Vikings left guard Alex Boone was sidelined last week against Detroit because of a concussion, a first for his eight-year NFL career. He'd only missed four games to injury before, all because of knee trouble. Boone has since passed the post-concussion testing, cleared to take the field for practice on Wednesday.
He has returned with some deeper perspective, as well as better equipment. Boone's wife and oldest child urged him to ditch the helmet he'd been wearing for years, the oldest model left in the league, he estimated.
"They don't want to wheel me around when I'm 35, so I will be trying a new helmet this week and probably from here on out," he says, reflecting on his old helmet like a little kid's security blanket. "I've always loved it, and now I'm going to have to upgrade to one of these new fancy things that I'm not happy about."
Boone predictably found the concussion protocol "annoying," complaining about the time he had to spent sitting in front of a computer answering questions to prove his mental acuity was back to normal. But he recognized the seriousness of the injury.
"This is a brutal game, and sometimes you get hit in the head and things go wrong," Boone said. "I have kids, and the last thing I want is to have them take care of me at 35. It's hard because I want to play and I want to do everything, but at the same time it's serious and I've got to be a dad at the same time."