Versus doubleheader is heavy on playoff implications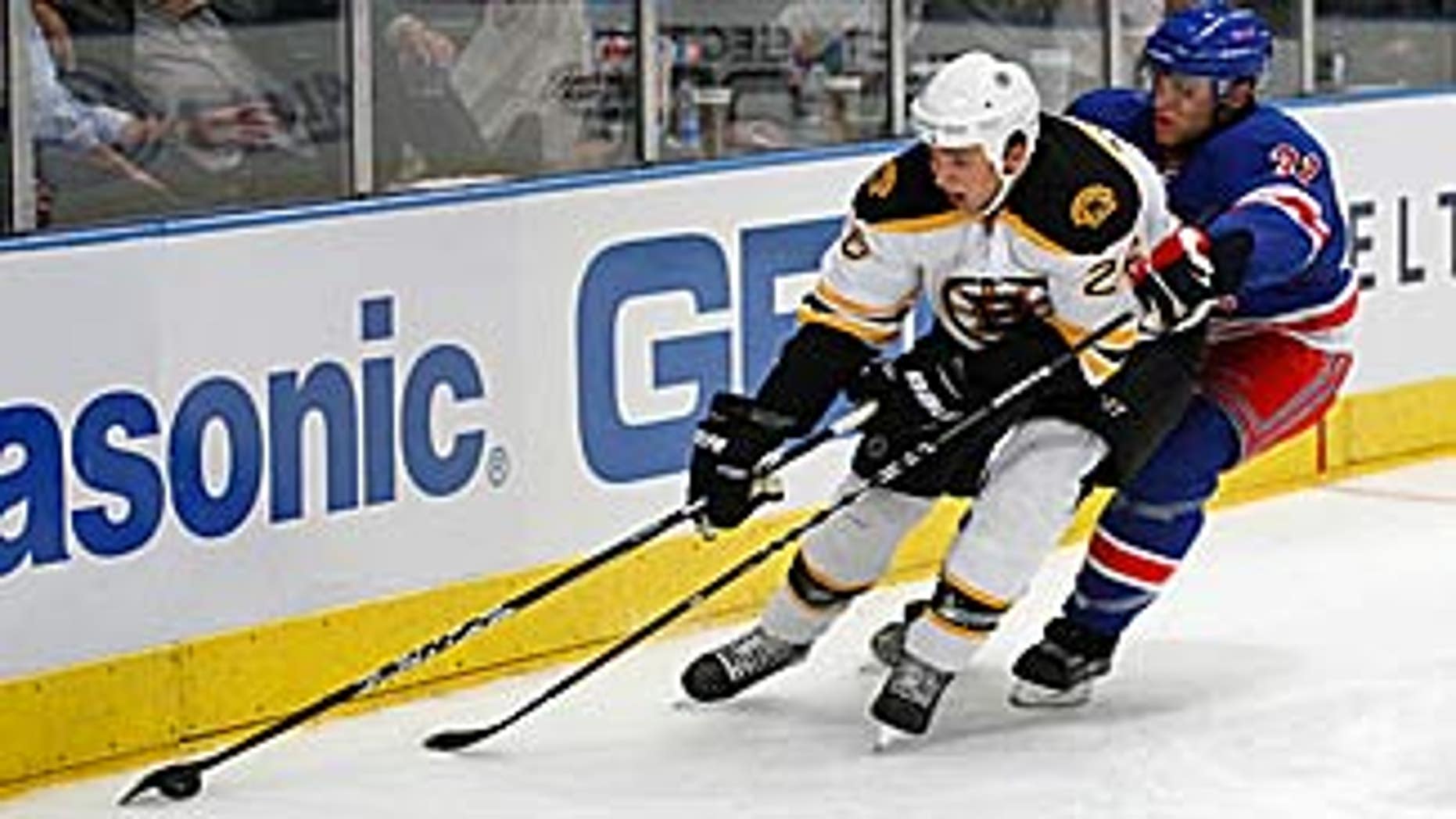 It's April 4, there are seven days left in the regular season, the playoff races in each conference are still on fire and many games have added meaning with points at such a premium. As always, NHL.com is here to give you a Down the Stretch daily that will highlight what you need to know about the games that directly impact the playoff races.
Here is the installment for Monday, April 4:
BOSTON (44-23-11, 99 points) at NEW YORK RANGERS (42-32-5, 89 points)
Where they stand: Boston is third in the East; New York is eighth in the East
What's at stake: Boston has not given up hope of winning the Eastern Conference title, but it needs plenty of help to get there. The Bruins are four points behind both Philadelphia and Washington but they have a game in hand on both teams. New York's cushion against Carolina for eighth place is just two points after the Hurricanes picked up a point Sunday in an overtime loss to Buffalo. The Rangers can jump the Sabres and move into seventh place with a win Monday.
How's it going: The Bruins are 3-0-1 since losing to the Rangers on March 26. They're coming off a 3-2 win Saturday against Atlanta and have allowed only six goals in the past four games, and just eight in the past seven games. They've already locked up the Northeast Division crown and have turned their attention to securing as high a seed as possible. Shawn Thornton is questionable for Monday's game with a bad cut above his eye. He missed the past two games.
The Rangers picked up a hard-fought and impressive 3-2 shootout win at Philadelphia on Sunday. Henrik Lundqvist made 32 saves and was perfect in the shootout to preserve the victory. It turns out the Rangers needed the win badly, especially with Carolina picking up a point later in the day. They had lost back-to-back games in regulation, including 6-2 to the Islanders, and were just 1-2-1 in their past four games. The Rangers and Hurricanes each have three games remaining and they each have 33 non-shootout wins.
Upcoming: The Bruins come home to play the Islanders on Wednesday and the Senators on Saturday before finishing the regular season in New Jersey on Sunday. The Rangers will be off until Thursday, when Atlanta comes to Madison Square Garden. They finish the season Saturday at home against the Devils.
LOS ANGELES (45-27-6, 96 points) at SAN JOSE (46-23-9, 101 points)
Where they stand: Los Angeles is fourth in the West; San Jose is third in the West
What's at stake: Los Angeles will clinch a playoff berth with a win. The Kings will also move within three points of the division lead. San Jose will clinch the Pacific Division title with a win.
How's it going: The Kings have won five of their past six games, with the lone loss coming at Vancouver in regulation. They beat Dallas, 3-1, on Saturday to give themselves a chance to clinch a playoff berth Monday at HP Pavilion. Matt Greene scored the winning goal with 7:10 to play in the third period and Dustin Brown capped it with an empty netter in the final seconds. Kings goalie Jonathan Quick is 4-1-0 with a 1.75 goals-against average in his past five starts. He's 2-0-1 with a 0.97 GAA at HP Pavilion.
The Sharks are sizzling. They've won three in a row and are 7-0-1 in their past eight games. The only reason they're not perfect is because the Kings beat them in a shootout on March 24 at Staples Center. The Sharks have allowed only three goals in three wins since, beating Phoenix, Dallas and Anaheim. Patrick Marleau has 10 goals in the past seven games, including four two-goal games and two three-point games. Marleau is up to 37 goals this season.
Upcoming: The Kings come home to play the Coyotes on Wednesday and then close the regular season with a home-and-home series against the Ducks that starts Friday in Anaheim. The Sharks travel to Anaheim on Wednesday and finish the regular season with a home-and-home series against the Coyotes that starts Friday in Phoenix.
Follow Dan Rosen on Twitter at: @drosennhl