Vernon Adams Jr. wants to leave an impact on Oregon program in the season's second-half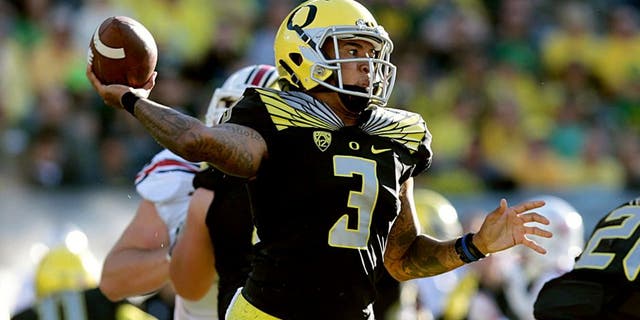 If healthy, Vernon Adams Jr. (3) could help the ducks make a second half push. Scott Olmos USA Today
However, with five regular season games left, Adams is ready to leave a lasting impression on the program and help the Ducks win out.
"People don't think I can lead the team and stuff. I think I can. Actually, I know I can," Adams said on Thursday, according to The Oregonian. "That's why I'm going to keep working and I'm going to do my best to win one game at a time. But I can't do it myself, everybody is helping me out. We'll be all right."
As for what people the criticism he has faced so far at Oregon, Adams said it was tough for him to sit out and not prove people wrong.
"It's just crazy what some people will say," Adams said. "It was tough for myself, being my senior year and having to sit out games and stuff."
Adams has five games to leave a lasting impact. He knows its all about getting wins and helping propel the program forward after a rough start.
"Just winning out," Adams said when asked about how this season could be successful. "I've made some great friendships here and I'm going to continue to make more great friendships. Just winning out and making everybody proud, most of all my family."
(h/t The Oregonian)