UFC Dublin: Holohan vs. Smolka Crystal Ball Predictions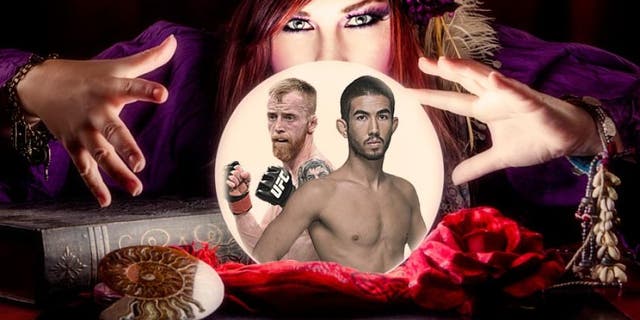 NEWYou can now listen to Fox News articles!
This Saturday's UFC card in Dublin has been hit hard, over and again, and lost its two top fights. Still, the UFC FIGHT PASS card is filled with fantastic rising prospects, so it's one you'll want to be sure to watch, and one that you want to be ready for with our breakdown of all the matchups, below.
Please, read on, and then let us know who you're picking, and why!
Patrick Holohan (12-1-1) vs. Louis Smolka (9-1)
Sure, I'm disappointed that both Stipe Miocic vs. Ben Rothwell, and Dustin Poirier vs. Joseph Duffy are canceled, but I'm still thrilled to watch this new main event. Holohan and Smolka are two of the best flyweight prospects in the UFC, and are thrilled at the sudden elevation in stage.
Both men are tall flyweights, are technical on the feet, and have excellent ground fighting ability. Each man has won three out of their first four UFC fights, and are riding two-fight win streaks.
Holohan will have the home-field advantage, in Ireland, but Smolka probably has the power striking advantage. Both men have conditioning and grit to spare, and are capable of exploding into a quick finish, or going the distance in a grinder.
Smolka may have faced slightly stiffer competition, but Holohan has also beaten quality opponents. This one is a toss-up.
Prediction: Holohan by decision
Norman Parke (20-4) vs. Reza Madadi (13-3)
When he lets his hands go, Parke has some of the best punching in the lightweight division. The Bushmills fighter is going through a rough patch, however, having lost two consecutive split decisions.
For his part, Madadi hasn't fought in about two and a half years, thanks to a prison sentence. When the Iranian last fought, however, he looked incredible, submitting top lightweight Michael Johnson.
Two years without any competition or much training isn't great for anyone in their mid-thirties, like Madadi. If he has managed to get sharp, again, he has the skills to make a real dent in the lightweight division, and can threaten to submit Parke.
Parke is hard to get and keep down, however. Madadi also isn't afraid to throw on the feet.
Still, it would seem likely that a ground fight favors Madadi, and a stand-up striking battle would benefit Parke.
Prediction: Madadi by decision
Nicolas Dalby (14-0) vs. Darren Till (13-0)
This fight between undefeated, young welterweight prospects is one to watch. These guys tower over most at 170lbs, and possess well-rounded skills.
Both won their UFC debuts, and want to get European bragging rights in this contest. Dalby can be a stifling presence in the cage, and has the conditioning to go the distance.
Till has scary striking power, however, and is the bigger threat to finish the contest.
Prediction: Till by decision
Neil Seery (15-11) vs. Jon Delos Reyes (8-4)
If you don't enjoy watching Seery or Delos Reyes fight, you don't like fighting. This flyweight contest presents a stark contrast in styles.
Seery is one of the most experienced European fighters in the world, and has excellent stand-up striking. Delos Reyes has phenomenal Brazilian jiu-jitsu, and can finish a fight on the ground at any point.
The questions will be whether Seery can defend the takedown, get up, and stay out of submissions, and if he does, whether Delos Reyes will have a Plan B, on the feet.
Prediction: Delos Reyes by decision
Stevie Ray (18-5) vs. Mickael Lebout (14-4-1, 1NC)
Both men are well-versed on the ground, and on the feet, and are pretty good-sized lightweights. Ray has looked flat-out nasty in the UFC, thus far, however, and he has great finishing ability with both his strikes and submissions.
Prediction: Ray by third-round submission
Aisling Daly (15-6) vs. Ericka Almeida (7-1)
Daly has the experience and proven durability, but Almeida is slicker on the mat, and has a lot less mileage.
Prediction: Daly by decision
Scott Askham (13-1) vs. Krzysztof Jotko (15-1)
Scott Askham is one my personal favorite fighters. Why?
Because his nickname is "Scott Askham." Anyone who chooses their full legal name as their nom de guerre is someone you'd want to share a meal with.
Other than that, Askham also happens to be very dangerous with his strikes and size. At 6-foot-3, he is bigger than most welterweights, but he carries with that length a lot of leverage and strength.
His knees are always a threat. Jotko is quite good, and has the potential to slow Askham down, however.
Prediction: Askham by decision
Cathal Pendred (17-4-1) vs. Tom Breese (8-0)
Neither man are completely comfortable on their feet, quite yet. Both are solid grapplers, however.
Hopefully that means we get a technical grappling fight, here. Breese is the more dangerous finisher on the ground, but Pendred has great pressure on top.
Prediction: Pendred by decision
Darren Elkins (19-5) vs. Rob Whiteford (12-2)
Whiteford usually either knocks you out, or works through a decision. He rarely loses.
Elkins is a big featherweight with good wrestling. He's also faced the better competition, overall, so far.
This may come down to who slows down first.
Prediction: Elkins by decision
Bubba Bush (8-2) vs. Garreth McLellan (12-3)
Bush is coming off a long lay-off, so hopefully the rest will have done his body good. McLellan is dangerous on the mat with submissions.
Prediction: McLellan by third-round submission