UFC: Controversy Follows Condit vs Diaz Fight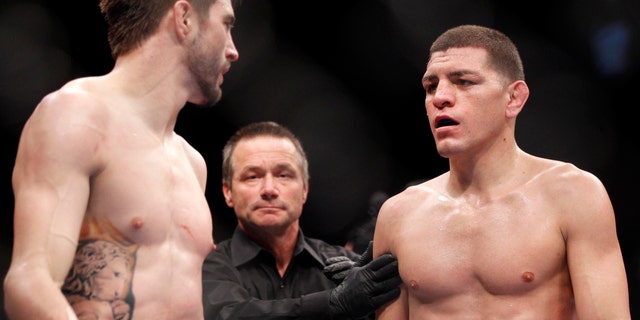 In a welterweight battle for the interim championship, and a shot at injured champion Georges St. Pierre, Carlos Condit (28-5) defeated one of mixed martial art's most complex and compelling fighters, Nick Diaz (27-8), by unanimous decision Saturday night at UFC 143 in Las Vegas, NV.
Condit, who is dubbed "The Natural Born Killer" and is the son of former New Mexico Governor Bill Richardson's chief of staff, won in a somewhat controversial fashion that will likely be disputed by MMA analysts, fighters, and fans for the foreseeable future.
Diaz seemed to press Condit for the first two rounds before the tides turned in the third and fourth rounds, with Condit taking those.

Diaz seemed a little stifled by Condit's game plan. Condit was backing away most of the early rounds trying to play it smart. Diaz taunted Condit, trying to get him to engage in a boxing match.

Condit stuck to his game plan, connecting with kicks to the legs and a barrage of punches.

At one point Condit connected with kicks to the head and face. Diaz brushed them off but the judges took notice.

In the fifth and final round, Diaz came back to press again with punches and a takedown.

He took Condit's back in the last minute of the fight but was unable to secure a submission.

When it was over, Ultimate Fighting Championship President Dana White was securing the interim welterweight title around Condit's waist while a visably irked Diaz stood by.

"I'm not going to accept the fact that this was a loss," Diaz told UFC commentator Joe Rogan. "He ran this whole fight."
Diaz then took it a step further by suggesting he may be done with MMA.
"I don't need this s***," said Diaz.
In the end, Condit was awarded a pretty solid unanimous decision by the judges and was confident he did enough to win.
While the judges didn't change their decision to award the match to Condit, a lot of fighters and MMA Media disagreed with their decision.
Here's a taste of what many were saying before the decision:
• Dan Henderson, UFC light heavyweight & middleweight contender
"Wow, I would not want to judge that one. I had it even after 4. And diaz in the 5th"
• Joey Beltran, recently released UFC heavyweight
"I had it even through 4 and Diaz stepped up to take the 5th. Carlos definitely had 3&4 but no way you can't give Diaz 1&2."
• Tito Ortiz, UFC light heavyweight, Former champion
"I had a draw!"
• Pat Militiech, former UFC champion
"That decision was an absolute joke. At best, Condit won 2 rounds."
• Brian Stann, UFC middleweight
"@carloscondit won that fight in my opinion, so happy for him, put a belt around his waist!! He is a great person & father"
• Miesha Tate, Strikeforce women's bantamweight champion
"I thought Condit won the fight I know Diaz is pissed but Condit had a solid game plan that worked, I thought he won for sure"
Werdum Beats Nelson
In the co-main event of the evening and what ended up being fight of the night, Fabricio Werdum (15-5-1) beat Roy "Big Country" Nelson (16-7) by unanimous decision in a heavyweight battle.
Nelson took massive amount of blows but kept coming back, not allowing Werdum to put him away.
Werdum who returns to the UFC after 3 years away, looked in solid form.
Follow us on twitter.com/foxnewslatino
Like us at facebook.com/foxnewslatino