Tyron Woodley teases return in July, but who is he fighting?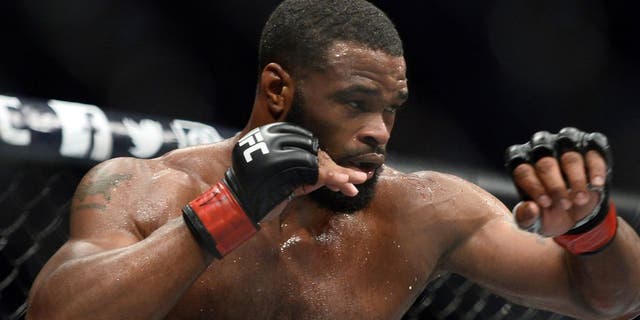 NEWYou can now listen to Fox News articles!
Tyron Woodley will look to make the next defense of his welterweight title when he returns to action this July.
Woodley teased his next fight just recently as he kicked off training camp following several film projects including a role in "Escape Plan 2" alongside Sylvester Stallone as well as "Guardians of the Galaxy" star Dave Bautista.
While Woodley says he's got another TV role coming up on the NBC series "Night Shift", he's starting preparation for a July return to the Octagon following his last win over Stephen "Wonderboy" Thompson in March.
"As you guys have heard, champ camp just kicked off. I can't release who it is yet but your boy's going to be fighting in July," Woodley said. "So stay tuned for the details on that."
Woodley didn't tease who he would be facing, but it would certainly appear that only a few options would be available for him in July.
Submission specialist Demian Maia faces off with Jorge Masvidal at UFC 211 on May 13 in Dallas and the winner of that fight would undoubtedly rocket to the top of the list as the No. 1 contender in the division.
Unfortunately that could be a big gamble on the UFC's part that the winner of that matchup would come away unscathed and then fight for the title two months later.
A third option that's been rumored is former title contender Nick Diaz stepping in to face Woodley in a marquee matchup in July.
Diaz has been out of action since January 2015 but he was rumored for a fight with Woodley as recently as UFC 209 but the Stockton, Calif. bad boy turned down the matchup with the champion.
If the UFC offered a second bite at the apple with the title on the line, perhaps Diaz couldn't turn down the opportunity this time around and he could make his return against the champion in July.
One thing is for certain, the UFC needs a headliner for the upcoming UFC 213 card taking place on July 8 in Las Vegas as part of International Fight Week.
Originally, middleweight champion Michael Bisping was expected to face former welterweight king Georges St-Pierre in the main event for UFC 213, which takes place at the T-Mobile Arena in Las Vegas.
Unfortunately, the fight between Bisping and St-Pierre is not expected to happen until sometime in the fall. That leaves a massive gap on the July 8 show, which is typically viewed as one of the marquee shows each year for the UFC.
Woodley making a title defense would certainly fill that role and a fight against Diaz could be the main event the UFC wants to help sell pay-per-views.
Of course while Maia, Masvidal or Diaz appear to be the most likely candidates for the fight, the UFC could always pull out a surprise for Woodley's next title defense. For now it's a game of wait and see as Woodley begins his training camp while looking for another title defense to add to his resume.