Tyler Seguin: "We got everything we wanted in this off-season"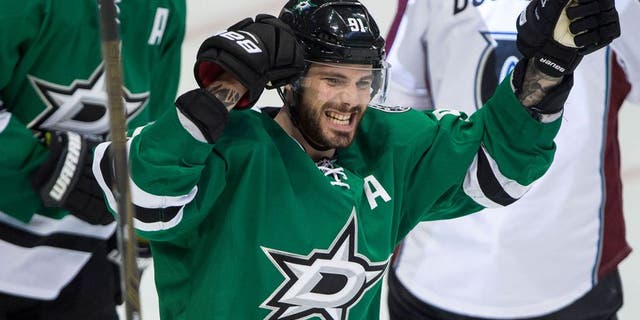 It's been a very busy off-season for the Dallas Stars…one that many experts around the NHL have said they have "won" with their trades for goalie Ben Bishop and defenseman Marc Methot and several free agent signings, including star forward Alexander Radulov.
On Thursday, the NHL Network interviewed Tyler Seguin and asked for his thoughts on the Stars busy summer…and by the sounds of it, the Dallas superstar is very happy with the additions.
"Exciting, obviously…another summer of some big moves," Seguin said when asked about the transactions. "It will be great to put it all together this year."
"From a front-office standpoint, we got everything we wanted in this off-season."
Those wants:
Ben Bishop, goalie: Won 18 games last season between Tampa Bay and Los Angeles with a 2.54 goals against average and a .910 save percentage
Alexander Radulov, right wing: Scored 18 goals with 36 assists last season for Montreal
Marc Methot, defensemand: Top line defender with large 6'3", 227-pound frame, helped lead Ottawa to the Eastern Conference Finals
Martin Hanzal, center: Large forward (6'6", 226-pounds) who has scored 326 points (121 goals, 205 assists) in 10-year career with PHX and MIN
Tyler Pitlick,center: Scored a career-high 8 goals in only 31 games last season for Edmonton while adding 70 hits
And, that's not to mention the team bringing back legendary coach Ken Hitchcock, who led the Stars to the back-to-back Stanley Cup finals and a Stanley Cup championship in 1998-99.
All of these changes has one of the faces of the franchise excited for the start of the season.
"As a player's standpoint, very excited," Seguin said. "New coach, new goalie, great new defenseman, and possibly a new linemate as well and a lot of depth…so an exciting summer and excited for October to come around."
The Dallas Stars open the season at home on October 6th against the Las Vegas Black Knights.
You can watch Tyler Seguin's full interview with the NHL Network here: