Twins hitting home runs like it's 1987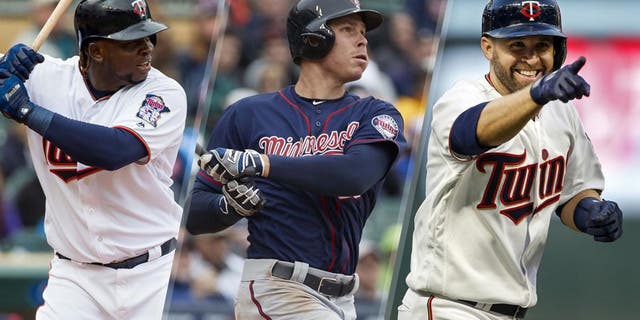 The Minnesota Twins hit six home runs Tuesday against the Oakland Athletics in a 9-1 win, as Jason Castro, Byron Buxton, Joe Mauer, Miguel Sano and Brian Dozier (twice) took trips around the bases.
Minnesota added four more blasts in its next two games to total 10 homers, the franchises most home runs in a three-game series since July 2001 against the Milwaukee Brewers.
Home runs have become a popular choice for Twins hitters at the plate.
The Twins have hit 30 dingers on the season, their most through 26 games since Kent Hrbek, Tom Brunansky and Gary Gaetti powered the team to 34 homers in 1987.
As Twins fans know, any stat that compares a team to the 1987 club is a positive sign.
Sano, specifically, has been launching baseballs out of orbit, including a 466-foot bomb at Target Field on Tuesday. The distance of his home runs have been so outrageous that FOX Sports North had to hire a full-time #SanoDoubter tracker, Marney Gellner:
Sanos eight homers account for 26.7 of the Twins dingers this season, and his 27 RBI are tied for the lead in the American League. That makes the 23-year-old slugger responsible for 22.9 percent of his teams total RBI, which tops MLB.
Sano, who was named the American League player of the week for his performance in late April, also leads the big leagues in slugging percentage against fastballs.
You may recognize the names below him:
The Twins started the year 4-0 before slumping to an 8-10 record, but they rediscovered their winning formula during a recent road trip in Texas and Kansas City. Minnesota has won six of its last eight contest to climb to 14-12 overall, just a 1/2 game out of first place in the Central Division.
In this eight-game stretch, the Twins are hitting .272 as a team and averaging six runs per game. And, good news for Twins fans, the winning ways should continue this weekend at Target Field. Minnesota has won six of its last nine home matchups over the Boston Red Sox, who square off for a three-game series starting on Friday evening.
NOTABLE
-- Twins starting pitcher Phil Hughes went 4-1 in his five April starts, tying the most wins in a single month in his career. Hughes posted a 1-7 record last season before he was sidelined for the year due to shoulder surgery. Its a promising start for the right-hander, who had a career 26-16 record as a Twin in July 2015 before slumping to a 6-11 record ever since.
-- Watch for Paul Molitor to start a plethora of left-handed hitters this weekend. Red Sox starting pitcher Eduardo Rodriguez has struggled against them in the past, as lefties are hitting .274 off the left-hander since 2015.
Statistics courtesy STATS and MLB.com