Twins among most patient teams in MLB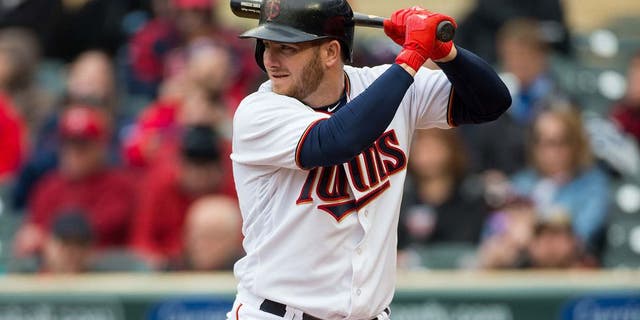 NEWYou can now listen to Fox News articles!
The Minnesota Twins enter their series against the San Francisco Giants with a 1 1/2-game lead in the AL Central Division. Could increased patience at the plate be a key reason for Minnesota's success thus far?
Twins batters are averaging 3.97 pitches per plate appearance this season, which is tied for fourth-best in the majors (the New York Yankees lead with 4.00 pitcher per PA).
In addition, Minnesota hitters have taken 55.3 percent of the pitches they've seen in 2017, which is the fourth-highest percentage in MLB.
Eleven of the current 13 Twins position players have taken at least 52 percent of pitches this season, led by Joe Mauer and Robbie Grossman, who are both over 60 percent.
Among players who have seen at least 200 pitches this season only the Dodgers' Logan Forsythe (333/482, 69.09 percent) and Detroit's Alex Avila (393/596, 65.94 percent) have taken more pitches than Mauer. Grossman ranks 10th.
Grossman is second on Minnesota with a .403 on-base percentage, behind Miguel Sano, who is at .413. Their combined OBP of .409 is the second-highest by any American League duo this season (among top-two players of each team) behind just the Yankees' Aaron Judge and Aaron Hicks.
Grossman is also one of six qualifying players in the majors with more walks than strikeouts. His +5 differential ranks fourth, behind Cincinnati's Joey Votto (+12), San Francisco's Buster Posey (+9) and the Cubs' Anthony Rizzo (+7).
Other notes:
-- Minnesotas .692 road winning percentage is the best for any Twins team through 56 total games, ahead of .679 in 1970.
-- In Ervin Santana's seven wins, he has a 0.35 ERA, .098 opponent batting average, 0.65 WHIP and .318 opponent OPS over 51 innings.
-- Giants starting pitcher Matt Moore has a 2.57 ERA at home compared to 7.94 on the road. Teammate Matt Cain actually has a higher differential, with a 1.82 home ERA and 8.40 on the road.
Statistics courtesy STATS, baseball-reference.com, baseballsavant.com and MLB