Tulowitzki has rollercoaster night with Blue Jays in ALCS Game 3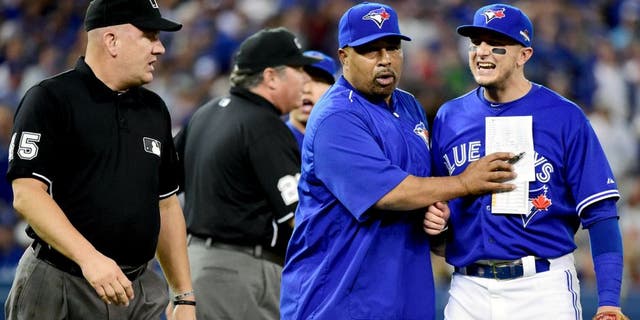 Emotions were high for Troy Tulowitzki in Game 3. Harry How Getty Images
It's October. It's the postseason. Tensions and emotions throughout baseball are at an all-time high.
That's especially true for Toronto Blue Jays shortstop Troy Tulowitzki.
Tulo's night started out great, launching a three-run home run in the third inning off Kansas City Royals starter Johnny Cueto to put the Jays up 6-2 in ALCS Game 3.
Your browser does not support iframes.
Those highs were followed by some lows later in the game.
To start the seventh inning, Tulowitzki struck out looking and had some choice words for home plate umpire John Hirschbeck.
The situation cooled and it seemed to have passed until the top of the eighth inning when Tulo took the field. Apparently, the shortstop continued to argue balls and strikes and was ejected while standing in the field.
That ejection made him the first American League player to get tossed in a postseason game in 27 years:
The Blue Jays claimed Game 3 by a score of 11-6.
MORE MLB: Want stories delivered to you? Sign up for our MLB newsletters.