'True' Raiders fans? Derek Carr clarifies comments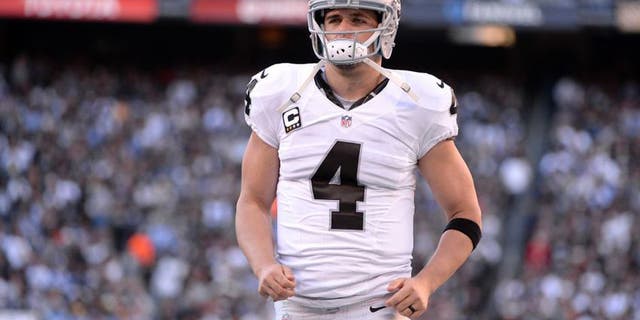 ALAMEDA, Calif. (AP) -- Raiders quarterback Derek Carr is clarifying comments he made about how fans who won't support the team after it moves from Oakland are not "true fans."
Carr made the comments at a news conference Monday for the start of the team's offseason program. Much of the focus was on the team's pending move to Las Vegas that was approved last month by NFL owners but likely won't happen until 2020.
The Raiders are staying in Oakland for now and Carr said he didn't expect a backlash from the fan base.
"We're not going to split up like you've seen other cities do," he said. "We're not going to do things like that. For the ones that do, I don't really believe that they're true Raider fans. I feel their hurt. I'm with, you. I hurt too. But at the same time, we're all in this together and we're just going to do it together."
Before that, Carr had stressed that his main focus for now is making sure the Oakland fans feel appreciated and doing whatever he can to give the fan base a winner to cheer for on the field.
Carr then went to Twitter on Monday night to make his feelings even more clear.
"Just in case I was misunderstood…I love ALL Raider fans, wherever they are from…. We are in this together, always! (hash)RaiderNation" he wrote.