Trading Ian Kinsler could be complicated for the Tigers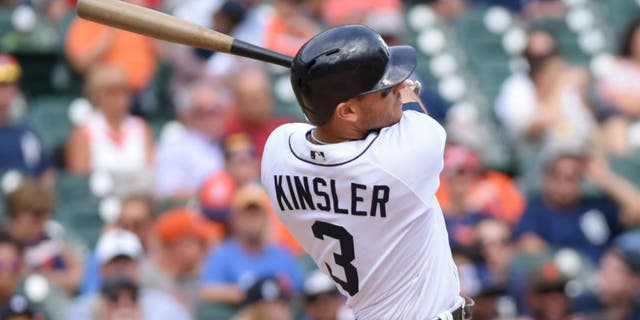 If the Tigers want to trade second baseman Ian Kinsler to a team on his limited no-trade list, he only will approve the deal if granted a contract extension, according to his agent, Jay Franklin.
The Dodgers, a team in need of a second baseman, are one of 10 clubs that would require Kinsler's permission for a trade, Franklin said Wednesday.
Kinsler, 34, is coming off his best offensive season since 2011, but his desire for an extension likely would complicate talks with the Dodgers and any other team on his no-trade list, perhaps forcing the Tigers to deal with one of the 19 clubs that could acquire him without restriction.
Major-league sources confirmed that the Tigers and Dodgers have discussed Kinsler, as first reported by MLB Network's Jon Paul Morosi. The Dodgers also have inquired on other available second basemen, including the Twins' Brian Dozier, sources said.
"If one of the 10 teams happens to call and wants to talk about it, we're open to talking about it," Franklin said. "(But) they're going to have to extend him for us to waive the no-trade.
"His ultimate goal is no different than when he went from the Rangers to the Tigers. He wants to win. If anyone knows Ian Kinsler, he has always been that type of guy.
"He would like the opportunity to stay at his position and hopefully get to the Hall of Fame. He works his tail off to keep himself in shape, trying to get to the point where the writers will one day say he was one of the best ever to play his position."
Kinsler is under contract for $11 million in 2017, and his deal also includes a $10 million option for '18. Any extension would begin when he was 36, an age at which clubs normally balk at signing players long-term.
The Tigers are considering a variety of options to lower their payroll and inject younger talent. Kinsler and outfielder J.D. Martinez are viewed as their most likely trade candidates because they are high-level performers nearing the ends of their respective contracts; Martinez will earn $11.75 million in 2017, his free-agent year.
Kinsler, whom the Tigers acquired from the Rangers for first baseman Prince Fielder on Nov. 20, 2013, batted .288 with 28 homers and an .831 OPS last season. He also tied the Red Sox's Dustin Pedroia for the major-league lead in defensive runs saved at second base -- the third consecutive year he has topped the rankings.