Tony Stewart uses fuel mileage to score top-five finish at Kentucky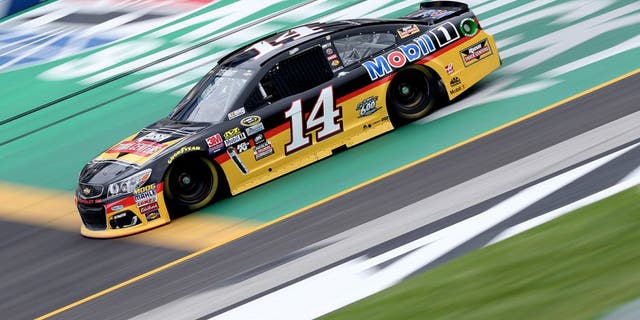 NEWYou can now listen to Fox News articles!
After a win at Sonoma Raceway locked him into the Chase for the Sprint Cup given he stay in the top 30 in points, Tony Stewart scored a fifth-place finish in his final race at Kentucky Speedway.
The result didn't come easy for Stewart though, who understood but was less-than-pleased with the tire Goodyear decided to bring.
"They (Goodyear) panicked when they had the test here and got blisters, so they brought the hardest thing they had," Stewart told NBC pit reporter Dave Burns after the race. "It just kind of puts everybody in a spot. It puts them in a spot too. None of us want it to be like it was here."
Despite his displeasure, Stewart understood why Goodyear chose a harder tire for the newly-repaved race track.
"But, just like every other new track, the more it ages, the better it gets for everybody," he said. "Then Goodyear will be able to back off the hardest of the tire a little bit."
He even light-heartedly made a joke about it.
"I told my guys that I'm not so sure Goodyear has figured out their niche in the NHL," he added. "If they would freeze these things, they would be great hockey pucks."
Stewart used fuel strategy to earn the all-important strong finish with eight races remaining before the Chase cutoff. He still finds himself 30th in the points standings, but he now has a 31-point cushion over Brian Scott.
"We just kind of got in a mode there where we took two tires at the end, my car got really tight and really couldn't run the pace I needed to run," Stewart said. "So we immediately went in fuel-saving mode. We figured that was going to be our best bet and it worked out."