Tony Stewart talked about racing Le Mans, Rolex 24 this year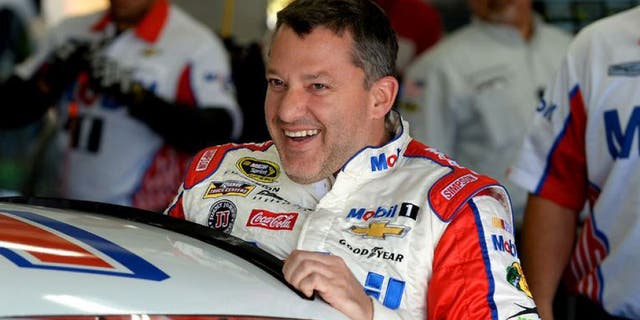 NEWYou can now listen to Fox News articles!
Tony Stewart said Wednesday that he had discussions about driving in both the Rolex 24 at Daytona and the 24 Hours of Le Mans this year, but both deals failed to materialize.
Still, Stewart told FOXSports.com that he could compete in more than 80 races this season, mostly in sprint cars and late models, although if the right opportunity came up, he'd be open to running sports cars, too.
"I had some interesting conversations about running Le Mans and running the Rolex and both of those opportunities in a three-day period fell through," said Stewart. "And both of them were a second car in an organization that they decided they weren't going to run a second car.
"It was nice to be considered for them," Stewart said. "That's the great thing now: Even with the races that we have scheduled, if something comes up, if an opportunity comes and we want to take it on, we can drop races off my schedule and add different races, so it's fun to have that flexibility now."
As far as the specific races Stewart will run later this year, he was coy.
The three-time Monster Energy NASCAR Cup Series champion said he'd only race at the Knoxville (Iowa) Nationals, the nation's biggest sprint car race, if he felt he had a legitimate shot at racing his way into the A-Main, the race that determines the event championship.
As for the remaining races, it'll be a game of wait and see.
"There's some on the schedule that will depend on where we're at mid-season that might be big races that we're going to," Stewart said.
Stewart said he needs more seat time in his sprint car before he makes some final decisions about where he'll race.
"We're just going to have to see how I progress. I know it sounds like I'm a rookie driver, but I kind of feel like one," he said. "It depends on how I'm progressing early in the season on some of these races, to whether we're going to go or not or maybe still be there but not participate.
"I think there are going to be some races that we're going to announce coming up pretty soon that are races that I've been looking forward to going to that I've not had a chance to run before."
Stewart said not racing in NASCAR anymore gives him the flexibility to attend races he couldn't before.
"There's a bunch of tracks and a bunch of events that I've not raced at before that I'm finally going to get to go to," he said.