Tony Romo Matches Career High Interceptions in Dallas Cowboys Loss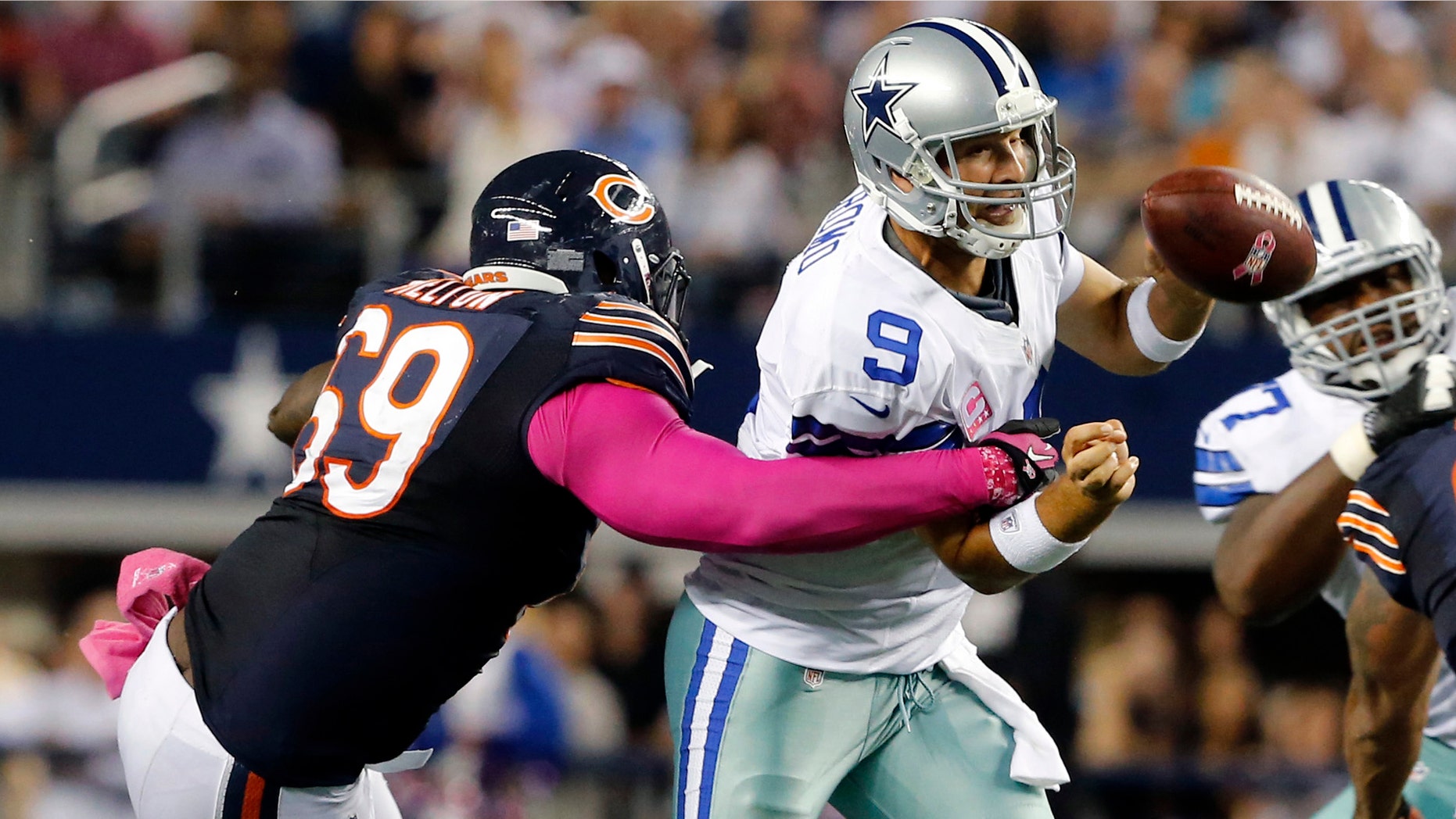 ARLINGTON, Texas – Tony Romo took one for the team- so to speak.
In a game full of tipped passes, miscommunication with receivers, and an unproductive defense, there was a plethora of potential excuses for the Dallas Cowboys loss.
But for Romo himself it was his performance, in which he matched a career high with five interceptions, two of which were returned for touchdowns by two of Chicago's 30-something defenders, that led to the Bears 34-18 victory on Monday night.
"I can't try and do too much, and I think I tried to do too much tonight," Romo said. "Going forward I just have to do my job. And I will. ... I have to do my job. The competitive side takes over sometimes and tries to make a play."
Charles Tillman took Romo's first pick 25 yards for a touchdown, and Lance Briggs broke the game open when he returned an interception 74 yards for a score midway through the third quarter during a wild two-play exchange of turnovers.
Chicago's first fumble of the season came when Cutler was sacked by DeMarcus Ware and Victor Butler recovered at the Bears 27.
On the very next play, Romo was trying to escape pressure when he was hit from behind by Henry Melton. The ball popped forward into the air and Briggs grabbed it and rumbled for his first interception return for a score since 2005 to put the Bears (3-1) ahead 24-7.
"Just outstanding play by our defense," Bears coach Lovie Smith said. "It seemed like everybody had a say in it. How about Lance Briggs? You guys didn't know he could run that fast."
This has to be a wakeup call for us. I don't say that nonchalantly. It has to be.
Though Romo was only sacked once, on the game's first series, he was pressured relentlessly and threw the five interceptions. That matched his career high, first done five years ago in his first full season as a starter.
Romo finished 31 of 43 for 307 yards with a touchdown.
Once again, the Cowboys (2-2) are a .500 team. They are also one of the lowest-scoring teams in the NFL with only 65 points going into their bye week, and then they play four of their next five games on the road.
"This has to be a wakeup call for us. I don't say that nonchalantly. It has to be," Cowboys tight end Jason Witten said. "You can't bounce back and forth like this and try to compete come December-time. You can't do it. We have been in that situation before. You cannot do it. And we know that, and we'll get better."
Since the start of the 1997 season, Dallas is 122-122 in regular-season games. They have won only one playoff game in that span after three Super Bowl titles in a four-year span in the first half of the 1990s.
"It's very disappointing, here at home in front of our fans. We thought a lot was at stake here," Cowboys owner Jerry Jones said. "We've got a long ways to go and got guys here who know how to do it. ... We all know when you don't take care of the ball, we all know what happens."
The interception by Tillman in the second quarter came on a ball thrown right into his hands by Romo when intended receiver Dez Bryant was still running down the field.
"Tony saw it one way," Dallas coach Jason Garrett said. "Dez saw it another way."
Trailing 17-7 early in the third after Cutler's 34-yard touchdown pass to Devin Hester, the Cowboys took the ball from their own 20 down to the Bears 18. Romo's slant pass bounced off Kevin Ogletree's chest and into the hands of Chicago cornerback D.J. Moore, then came the turnovers on consecutive plays.
When the Cowboys got the ball back in the final 3 minutes, Kyle Orton got his first action since the veteran quarterback signed a free agent deal during the offseason to be Romo's backup.
Orton threw a 5-yard TD pass to Witten with 34 seconds left, capping a 10-play, 89-yard drive.
Witten, the seven-time Pro Bowl tight end who uncharacteristically had several drops the first three games after missing most of the preseason with a lacerated spleen, had 13 catches for 112 yards.
Cutler picked apart the Dallas defense in the second half, completing 11 of 12 passes for 219 yards and two long touchdowns.
The Bears quarterback finished 18 of 24 overall for 275 yards. Brandon Marshall had seven catches for 138 yards, including a 31-yard TD.
After Tillman's interception put the Bears up 10-0, the Cowboys responded by going 80 yards on nine plays, capped by Romo's 10-yard TD pass to Miles Austin with 14 seconds left in the half.
Based on reporting by the Associated Press.
Follow us on twitter.com/foxnewslatino
Like us at facebook.com/foxnewslatino