Tony Romo, Dallas Cowboys QB, Will Miss 3 Weeks After Surgery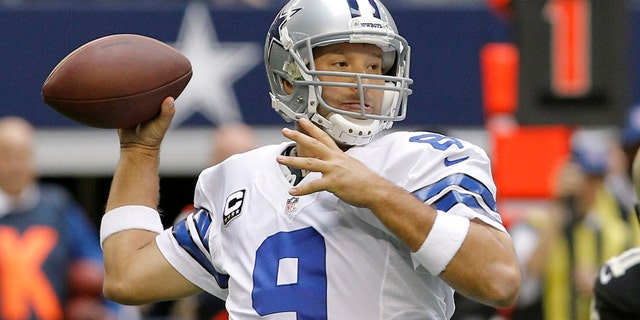 Not an ideal start to the Dallas Cowboy's initial workouts.
Cowboys quarterback Tony Romo will miss at least three weeks of off-season workouts after a procedure to remove a cyst from his back.
The team's website reported Tuesday that Romo underwent the procedure last month and could return for the mandatory minicamp that starts June 11. He will be ready for training camp in July.
Romo signed a six-year, $108 million extension with $55 million guaranteed in March.
The Dallas Morning News reported that the outpatient procedure was performed before the NFL draft. Romo was restricted to light conditioning work in April but has been cleared to throw.
According to ESPN, Romo is expected to talk to the media Tuesday at the OTAs (organized team activities).
Romo, 33, is usually active in the off-season and usually plays golf.
Romo's injury leaves Kyle Orton as the first team quarterback, Nick Stephens and undrafted rookie Dalton Williams are also on the roster.
In May of last year, Cowboys owner Jerry Jones said the team's shot at a championship was getting smaller.
"Well, my window is getting shorter. Time goes by," Jones told the NFL Network. "I do feel real pressure because we do have players not only in Tony Romo, but Jason Witten [and] DeMarcus Ware, to leave out several that are (also) in the prime of their career. And we need to strike and strike soon with those guys."
Romo disagreed with that sentiment as reported last year by ESPN.
"It's not closing," Romo said last year at an organized team activity workout. "I think there's a sense of urgency every year that you play, whether it's your first year in the league or your 22nd. You never know when all that stuff is going to happen, so you just play every year as if it's an urgent day."
Includes reporting from The Associated Press.
Follow us on twitter.com/foxnewslatino
Like us at facebook.com/foxnewslatino