Tomas, Miller way too much for Padres as D-backs win 3rd straight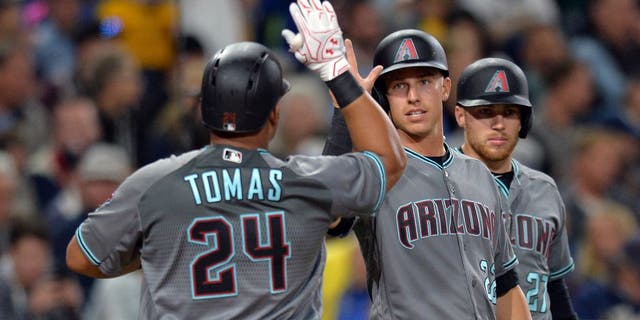 NEWYou can now listen to Fox News articles!
SAN DIEGO -- Yasmany Tomas hit a three-run homer, Shelby Miller pitched 7 1/3 innings of four-hit ball and the Arizona Diamondbacks routed the San Diego Padres 11-2 on Tuesday night.
The Padres lost their fifth straight game. They were coming off a four-game sweep at Atlanta.
Miller (2-1) kept the Padres off balance most of the night, including four 1-2-3 innings, as he pitched into the eighth for the first time this season. San Diego broke through in the third with Wil Myers' two-out RBI single to center, but otherwise was frustrated.
Miller allowed a double to Travis Jankowski leading off the eighth, struck out Christian Bethancourt and then made way for Randall Delgado. Miller struck out five and walked two.
Tomas' line-shot homer to left capped the four-run fifth and gave the Diamondbacks a 7-1 lead. His second, it went an estimated 378 feet. Paul Goldschmidt was aboard on a walk and Jake Lamb on an RBI single.
Arizona's Chris Ianetta homered to right-center off Zach Lee in the eighth, his second.
Padres starter Jarred Cosart (0-1) left after 3 2/3 innings with a strained right hamstring. He came out after walking Brandon Drury with the bases loaded. Craig Stammen came on and promptly threw away Chris Owings' comebacker for a two-run error.
Cosart allowed three runs, one earned, and two hits. He struck out two and walked two.
The game got so out of hand that 33-year-old Padres shortstop Erick Aybar made his big league pitching debut in the eighth, taking over from Bethancourt to get Chris Hermann to ground out.
UP NEXT
Diamondbacks: RHP Zack Greinke (1-1, 4.32) looks to bounce back from a 7-1 loss to Clayton Kershaw and the Los Angeles Dodgers. He is 8-1 with a 2.02 ERA in 16 career starts against San Diego.
Padres: RHP Jhoulys Chacin (1-2, 7.80), who spent part of the 2015 season with Arizona, is scheduled to make his fourth start for San Diego. He is 5-3 in 14 career appearances, including 13 starts, with a 3.04 ERA against the Diamondbacks.