TJ Dillashaw rips 'cry baby' Demetrious Johnson for being 'too scared to fight' him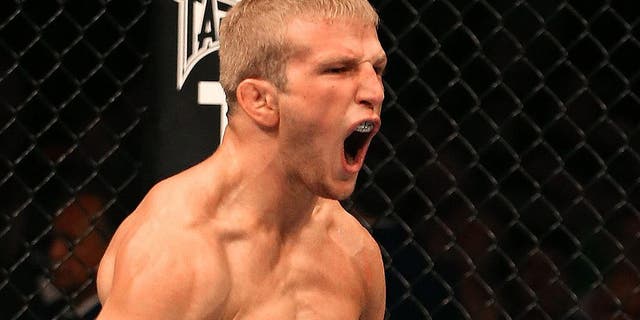 NEWYou can now listen to Fox News articles!
T.J. Dillashaw is getting tired of hearing why Demetrious Johnson doesn't want to fight him.
The former bantamweight champion was offered a fight against Johnson following an injury to Cody Garbrandt that cancelled their matchup at UFC 213, but as of now it doesn't appear the bout will happen.
On Monday, Johnson released a lengthy statement taking aim at the UFC for "bullying" him into taking the fight with Dillashaw amidst a myriad of other reasons why he's angry at the promotion for what he called "despicable" mistreatment.
Now Dillashaw has spoken out numerous times about the need for fighters to band together in an effort to receive better rights, more pay and other considerations from the promoters in mixed martial arts, but he says he's not buying any of that as a reason why Johnson went on a tirade against the UFC.
"I understand where he's coming from when he's dealing with the UFC and Dana [White]. But the one thing, I dont understand how he says me and Dana are buddies. Me and Dana have been butting heads for the last two years for me trying to get a title fight. I haven't been happy with the decisions Dana's made either," Dillashaw told FOX Sports on Tuesday via the Fight Society podcast.
"But all the other excuses about him being bullied into the fight, not making enough money, not getting promoted. That all gets squashed if he fights me. He will be getting promoted because this fight, they're obviously very excited about so they will hype it up and promote it. He will be getting paid. He'd be getting pay-per-view bonus, they already told him if he fights me he'll get a pay-per-view percentage. That's him getting paid just like he wanted. And he's going to get so much more exposure fighting me rather than fighting Ray Borg."
Dillashaw takes exception to Johnson saying that he should have to fight at least one time at flyweight to deserve a title shot, especially considering his history as a former champion in the weight class above 125 pounds.
Add to that, Dillashaw was supposed to be fighting for the bantamweight title in July if not for an injury so he believes it's just another excuse why Johnson won't face him as offered this August at UFC 215.
Throughout his UFC career, Dillashaw has always done his best to take the high road even when past opponents have gone low and on a personal level he says he's always had the utmost respect for Johnson and his accomplishments inside and outside of the cage.
Still this current situation has left a bad taste in Dillashaw's mouth and that's why he's taking aim at Johnson so publicly while doing everything in his power to make this fight a reality.
"Nothing else makes sense to me why he wouldn't take the fight other than creating these excuses for him not having to say that he's scared to fight me because he doesn't want to lose his belt," Dillashaw said. "I respect Demetrious Johnson as a person, I like him, I like his wife, I like him but by him acting this way and turning down the fight, he's really tarnishing his career and reputation in my eyes.
As of now, Dillashaw is still cutting weight and preparing as if he's fighting Johnson in August but there are no guarantees that the bout will happen.
Johnson's statement released earlier this week only made Dillashaw wonder even more if this fight was really going to take place although he's still hopeful it will come together in the near future.
"I've never been more confident about how I'll feel at 125 [pounds] than now. Everything happens for a reason or at least I thought I did until Demetrious started [expletive] out of this fight," Dillashaw said. "I thought Cody got hurt, whatever, I always wanted to fight Demetrious Johnson, I always wanted to drop down to 125 and now he's got this big fight to break the record and he doesn't have an opponent. The right opponent should be Joseph Benavidez with a long win streak over top named opponents but he's injured so all these things kind of lined up.
Dillashaw says that Johnson can continue fighting opponents who statistically just don't have much of a chance to beat him or he can accept a challenge from a former champion in a different weight class willing to move down to face him.
If Johnson side steps this fight, Dillashaw has no doubt that will be an asterisk that will be attached to his career from now until forever.
"He's scared of it. He hasn't had this situation in a while and he's scared of it," Dillashaw said. "He's all right fighting Tim Elliott from [The Ultimate Fighter] and not being ranked. He has no problem fighting Ray Borg who doesn't have a name. He has no problem fighting those guys, lining them up and running them down. A true challenge is on his doorstep.
"He wants to get all hyped up on the mic after his last win when he fought a guy [Wilson Reis], who looked like he was shadow boxing while he was fighting him and saying he wants to get paid seven-figures. This is the way to do it. My opinion has changed on him being a true man. This is the fight game. I've taken title fights on 24 hours notice. Let's do this. Let's get this fight going. Let's give the people what they want."
Josh Hedges/Zuffa LLC | Zuffa LLC via Getty Images