Titans DL Casey takes blame for critical defensive breakdown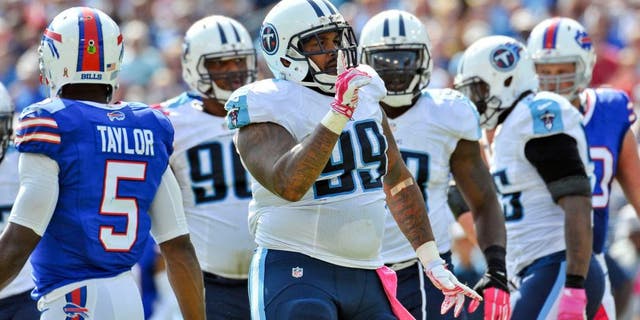 NEWYou can now listen to Fox News articles!
Another inability to finish off a quality opponent left Tennessee Titans defensive lineman Jurell Casey pointing the finger at himself Sunday.
In the fourth quarter, with the Titans up 13-7 and Buffalo facing a third-and-23 situation from its own seven-yard line, Bills quarterback Tyrod Taylor broke free for a 24-yard run.
The drive continued and Buffalo went on to score the game-winning touchdown.
"I take the blame on that play. Coaches called a play, and I did the wrong thing on the play," Casey said, per the team's official website. "I allowed him to escape up the middle on us and he made a big play and put us in a bad situation. I know the coaches trusted on us to get the job done and I let the game slip through my fingers and not make the play when I needed to. I put us in a bad situation."
While Casey blamed himself for the loss, he had an otherwise standout day, contributing six tackles and 1.5 sacks.
Sunday marked the second game in a row the Titans have been unable to hold a fourth-quarter lead. Tennessee led the Colts 27-14 before Indianapolis rallied to win.
"It seems like we wait until the end to get beat, or get beat for big plays,'' said linebacker Derrick Morgan. "That's on us as an entire defense. We have to get there faster on those long runs and play better overall.
"That's on us as a defense. We have to execute in those situations."
MORE NEWS: Want stories delivered to you? Sign up for our NFL newsletters.