Timothy Peters wins wreck-filled Truck Series race at Phoenix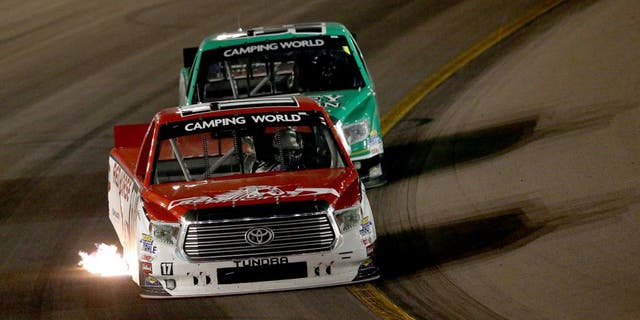 Timothy Peters won the wreck-filled Camping World Truck Series race at Phoenix International Raceway on a Friday night when two-time defending series champion Matt Crafton's hopes of another title took a severe blow.
Peters inherited the lead on a restart with 25 laps to go after Crafton wrecked while battling fellow championship contender Erik Jones for the lead to bring out a red flag.
Crafton later admitted he was at fault for causing the accident that also collected Jones and Crafton's teammate at ThorSport Racing, Johnny Sauter.
"I made a mistake," Crafton said. "I hate it for everybody involved."
Jones ultimately recovered to finish ninth and now needs only to finish 15th or better in the season finale at Homestead-Miami Speedway to win the 2015 drivers' championship.
Peters, meanwhile, clinched the 2015 series manufacturer's championship for Toyota with the victory. It was Toyota's eighth manufacturer's title in the series.
Jones entered the race with a 17-point lead in the standings over the two-time defending series champion. But as they raced for position with 31 laps remaining, Crafton lost control of his truck and bumped into Jones.
Crafton then careened into teammate Sauter to end the race for both drivers. Jones was able to continue but was no longer a threat for his third consecutive win at Phoenix.
Headed into the season finale next week at Homestead-Miami Speedway, Jones has a 19-point lead in the standings over Tyler Reddick. Crafton fell 32 points behind Jones.
The Associated Press contributed to this report.