Timberwolves finish preseason by crushing Hornets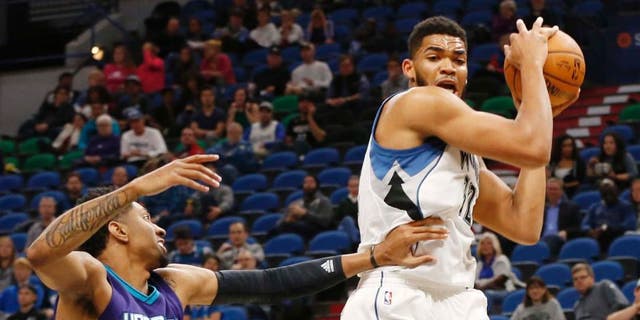 MINNEAPOLIS -- Brandon Rush scored 14 points and hit all four of his 3-pointers to help the Timberwolves breeze past the Hornets in a 109-74 win.
Karl-Anthony Towns had 15 points and nine rebounds for the Wolves despite playing just 15 minutes because of foul trouble.
Marco Belinelli was the only Hornet in double figures with 10 points.
HORNETS: Frank Kaminsky played just eight minutes before leaving with a sprained right foot. . . . After playing at home on Thursday night, forwards Marvin Williams and Nicolas Batum did not make the trip to Minnesota. . . . The Hornets shot 31.6 percent from the field, including 13 percent (3 for 22) from 3-point range.
TIMBERWOLVES: Andrew Wiggins sat out a second straight game after suffering an allergic reaction earlier this week. He participated in warmups and watched from the bench, his face still noticeably swollen. . . . Shabazz Muhammad had 17 points in 19 minutes after sitting out the previous game with a sore right hip. . . . Ricky Rubio had 10 points, six assists and four rebounds and was the trigger man during a 31-12 third quarter that broke the game open.
UP NEXT: Charlotte (3-4) opens the season at Milwaukee on Wednesday. Minnesota (5-2) visits Memphis on Wednesday.