Thursday, May 4: Miami Marlins at Tampa Bay Rays game preview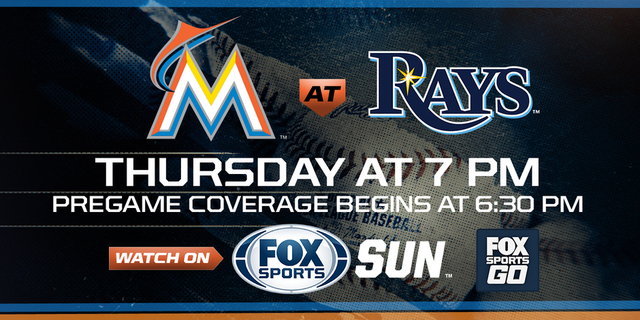 TV: FOX SportsSun
TIME: Coverage begins at 6:30 p.m. ET
ST. PETERSBURG, Fla. -- The Miami Marlins had dropped six of seven games before their interstate series with the Tampa Bay Rays shifted north, and their 17-hit onslaught in a 10-6 win at Tropicana Field on Wednesday gave manager Don Mattingly hope for what's ahead in the remaining four road games this week.
"The biggest thing is trying to bring a constant level of energy every day," Mattingly said. "The next day, you have to totally turn the page on a good or bad (game). We have to get our energy levels up and sustain it and each day do their part. That's when your team becomes a really dangerous club is when everybody feels like they don't have to carry the load, but just get their hit."
The Marlins (12-14) had scored more than four runs just once in their previous seven games, and combined for only three runs in back-to-back losses to Tampa Bay in Miami to start the series.
As the Rays (14-15) move forward, any sustained success has to begin with a more reliable bullpen, this after two relievers gave up a combined eight runs on nine hits in the sixth and seventh innings.
"It just kind of got away from us a little bit," Rays manager Kevin Cash said. "We had some guys who were down today, obviously."
Tampa starter Blake Snell gave the Rays just five innings Wednesday, but they'll hope for a better outing Thursday from Matt Andriese, who lasted seven innings in his last outing on Saturday against Toronto.
Andriese and his Marlins counterpart, Dan Straily, have comparable numbers this season. Andriese is 1-1 with a 3.86 ERA, while Straily is 1-2 with a 4.15. Andriese also has a matching 3.86 ERA in his career against the Marlins -- he made his major league debut at Marlins Park in 2015 with a scoreless inning.
Straily has never faced the Rays. He has struck out 29 batters in 26 innings this season and will face a Tampa Bay lineup that fanned eight times in Wednesday's loss.
Mattingly was encouraged by the top-to-bottom production at the plate in Wednesday's win. Miguel Rojas had four hits out of the No. 7 spot in the order and Adeiny Hechavarria had three while hitting eighth.
That will take pressure off his biggest bats -- Giancarlo Stanton went 1-for-5 on the night, but his top three hitters (J.T. Realmuto, Martin Prado and Christian Yelich) each had three hits and combined for six RBIs. Having an extra hitter with games in an American League park was a welcome change for Mattingly.
"I enjoy the National League game; but, in the American League game, there are some advantages, obviously having the extra hitter in the lineup and your pitching changes are different," he said.
After Thursday's series finale, Miami heads to New York for three games against the Mets, whom it has beaten in five of seven this season. The Rays, meanwhile, stay at Tropicana Field with seven more home games, starting with three against Toronto, against whom they've taken four of seven this year.