Three Thunder players named to one list of NBA's top 100 players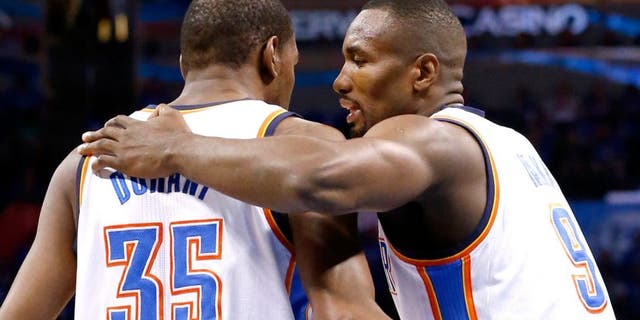 The Oklahoma City Thunder are arguably the most interesting team to watch next season.
The story of the season is Kevin Durant's free agency, so all eyes will be on the Thunder superstar and his facial expressions and body language (no, seriously). Oklahoma City has as much starpower as any team in the league, but it has yet to manifest a championship since the team began contending four years ago.
If the Thunder are to win a title and ensure Durant commits long term, their three stars -- Durant, Russell Westbrook and Serge Ibaka -- will have to stay healthy and build off the chemistry they've built over the last half-decade-plus.
The Thunder's lack of depth could hurt them, though, as behind their top three players, there isn't much. According to Sports Illustrated's list of the top 100 players in the NBA, the Thunder are extremely top-heavy. The other primary Western contenders -- the Warriors, Spurs, Clippers and Rockets -- each have five or more players on the list, as do several Eastern teams (the Cavs, Hawks and Heat).
The good news for the Thunder is that they have three top-25 players, and that is generally enough for true contention.
Ibaka clocked in at No. 25 on the list, in between Damian Lillard (No. 24) and Klay Thompson (No. 26). Ibaka actually dipped, as he was ranked No. 19 last season.
The controversy is at the top. Despite his monster season, Westbrook fell from No. 4 to No. 7 in this season's rankings. He has been passed by Anthony Davis (No. 3), Stephen Curry (No. 4) and James Harden (No. 5), which may not be accurate, but is somewhat defensible.
To some surprise, Durant finished at No. 2, behind LeBron James and ahead of Davis and Curry. Davis and Curry are each the flavors of the month, respectively, so it wouldn't have been surpsing to see pundits underrate Durant and put either one (or both) ahead of him in such a ranking.
But Sports Illustrated honored Durant's body of work over the last few seasons, and didn't let a throwaway season last year affect his ranking.
(h/t Sports Illustrated)