Three Generations Torn by Soccer Rivalry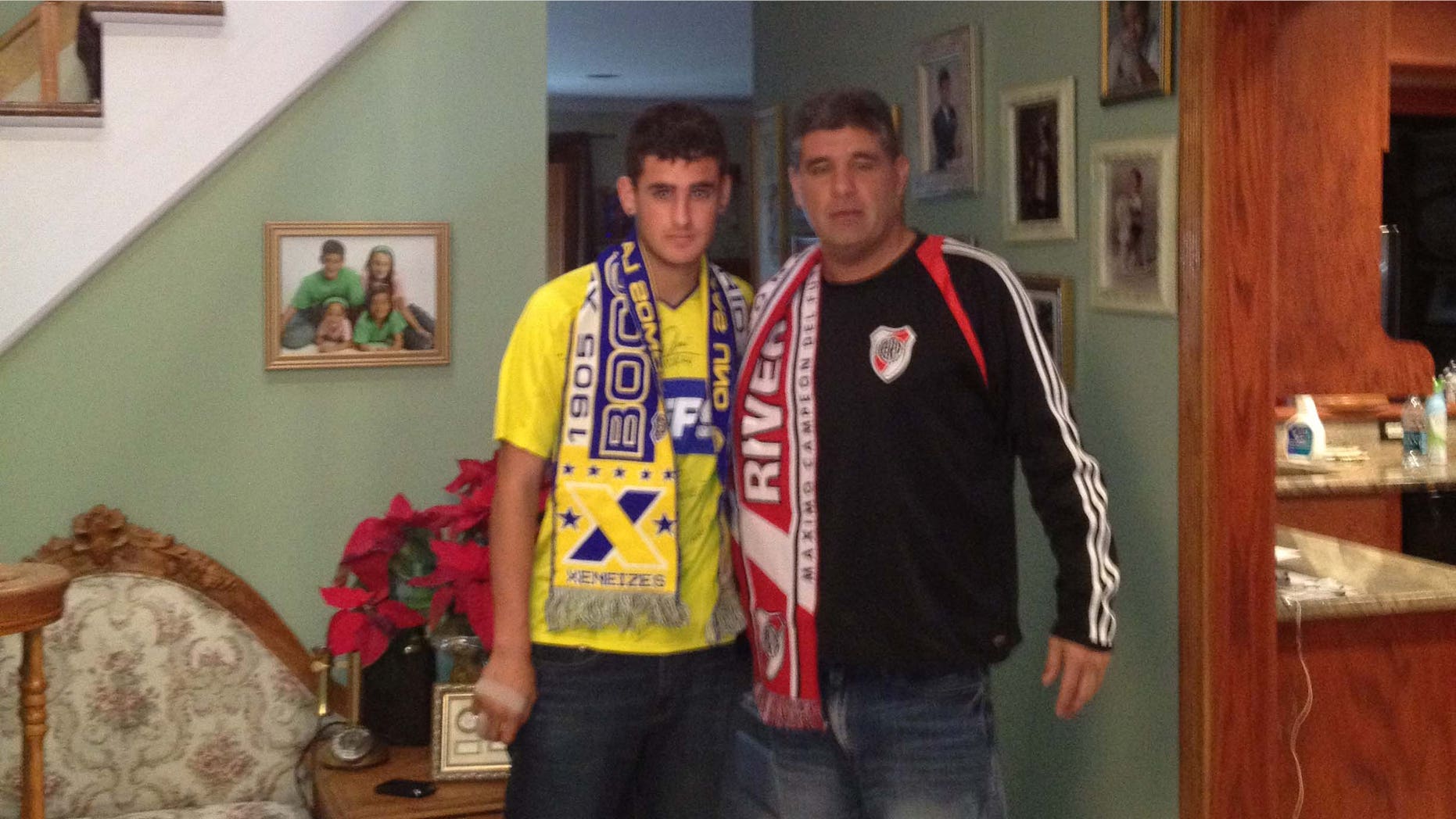 Soccer allegiances certainly can make for some strange bedfellows.
Take, for example, the Gaitan family of Oceanside, N.Y. Father Adrian is a big-time River Plate fan and proudly wears its red, white and black colors, while his son Nicholas is a big Boca Juniors supporter and loves its blue and yellow colors. Those two clubs are archrivals in Argentina and the fans don't get along, to put it mildly.
That also goes for the Gaitan family.
"We got a chance to watch the recent Boca-River game on TV," Adrian said. "We can't even watch it in the same room. I watched it upstairs and Nicholas downstairs."
As it turns out, Nicholas' grandfather, Tony Gaitan, lives and dies with River, which makes for a unique family dynamic.
"Me and my dad, we argue every day about it," Nicholas said. "When Boca beat River, I got on my father's and grandfather's case. It gets under their skin. It's pretty entertaining. It's great because they get so emotional about it."
So, imagine Adrian's reaction when Nicholas signed with Boca recently.
"When your son goes to play for a club that is probably one of the great clubs of the world, it's exciting," he said. "As a soccer fan of a family member, it's a tough pill to swallow."
Despite his passion and personal views, Adrian actually pushed for Nicholas to join Boca. For the past year and a half, the 16-year-old midfield had been playing for Argentinos Juniors. Adrian said he wasn't looking short term, but rather at the big picture, giving his son more of an opportunity to get noticed in Argentina and in Europe.
"He loves Argentina," Adrian said. "Nicholas' goal is to be somewhere in Europe with a team that suits him, whether it is in the Netherlands, Spain or Portugal. He'd rather be in MLS. The league is getting better."
Until recently, Nicholas would have rather stayed with Argentinos Juniors because he had forged many friendships and was reluctant to leave.
"It was a difficult decision," he said. "I had a lot of friends there.
But . . .
"It was the best decision," he said. "The decision I just made could change my life for the better."
It certainly can. Boca has produced some exceptionally talented soccer players, including the legendary Diego Maradona, Juan Román Riquelme, Carlos Tevez and Guillermo Barros Schelotto, among a seemingly endless list of players. That doesn't necessarily mean Nicholas Gaitan will come close to them, but it certainly will help his marketability if he continues to progress.
"It seems that it is a great place to develop players because there are Argentine players all over the world," Adrian said.
For Nicholas, playing with his favorite team was a dream come true.
"I'm excited and nervous," he said. "I will be making new friends. I'm excited that I'm going to play."
It certainly hasn't hurt Nicholas that he has an Argentine passport, which has made it easier for him to play in the South American country. He is a member of the U.S. Under-17 National Team pool.
Asked about getting an opportunity to live that dream, Nicholas replied, "Oh man, you don't even know. It's killing me. I used to dream about it every night. It's every kid's dream who wants to play with Boca Juniors someday.
The younger Gaitan said that he has enjoyed his 18 months at Argentinos Juniors, although he admitted it was much more difficult than he anticipated.
"In soccer, it's a high level and everyone wants to get there," he said. "I didn't know it was that intense until I got there."
Nicholas and his friends trained for two hours in the morning and attended school in the afternoon. The youth teams will play Saturday or Sunday, and on the weekend day in which Argentinos Juniors isn't playing, there is a good chance Nicholas attends a professional team's game or another match in Buenos Aires.
Nicholas said he has learned a lot and how to fend for himself. He lives in an apartment in Buenos Aires.
"I had to take on more responsibilities [since] I am by myself," he said.
Back home, he would rely on his parents to take him to practices and games. Now, he takes buses to get from here to there.
"A lot of kids think it's easy," he said. "You have to go through a lot of ups and downs. You have to watch what you eat every day -- nutrition and dehydration. All that stuff is really important, especially if you're training every day."
When it comes to soccer, Nicholas learned it was a different world in the South American country.
"Everybody in Argentina, it's all about soccer 24/7," he said. "It's a way of life."
And Nicholas hoped that it will become his way of life as a professional player.
"Ever since I was a kid, I've always been brought up around soccer ever since I was three- and four-years-old," he said. "It's been my dream to play soccer."
While Nicholas and his father and grandfather don't see eye-to-eye when it comes to rooting for professional teams, you can see from where he got his pedigree.
His grandfather, Tony, was a successful youth coach on Long Island in suburban New York.
Adrian was a member of the U.S. team that competed at the 1987 Under-20 World Cup in Chile and a former pro player in the old American Soccer League and was a starter on the Long Island Rough Riders' 1995 U.S. Interregional Soccer League national championship team. Adrian went on to coach the Staten Island Vipers (A-League) and currently is technical with the Albertson Soccer Club and its U.S. Soccer Development Academy program.
"It's a way of life for me," Nicholas said. "If I didn't have soccer, it would be hard to live. It's a way of life."
Nicholas Gaitan and his family wouldn't have any other way, even if it will play for the hated Boca Juniors.
Michael Lewis has covered international soccer for more than three decades. He can be reached at SoccerWriter516@aol.com.
Follow us on twitter.com/foxnewslatino
Like us at facebook.com/foxnewslatino