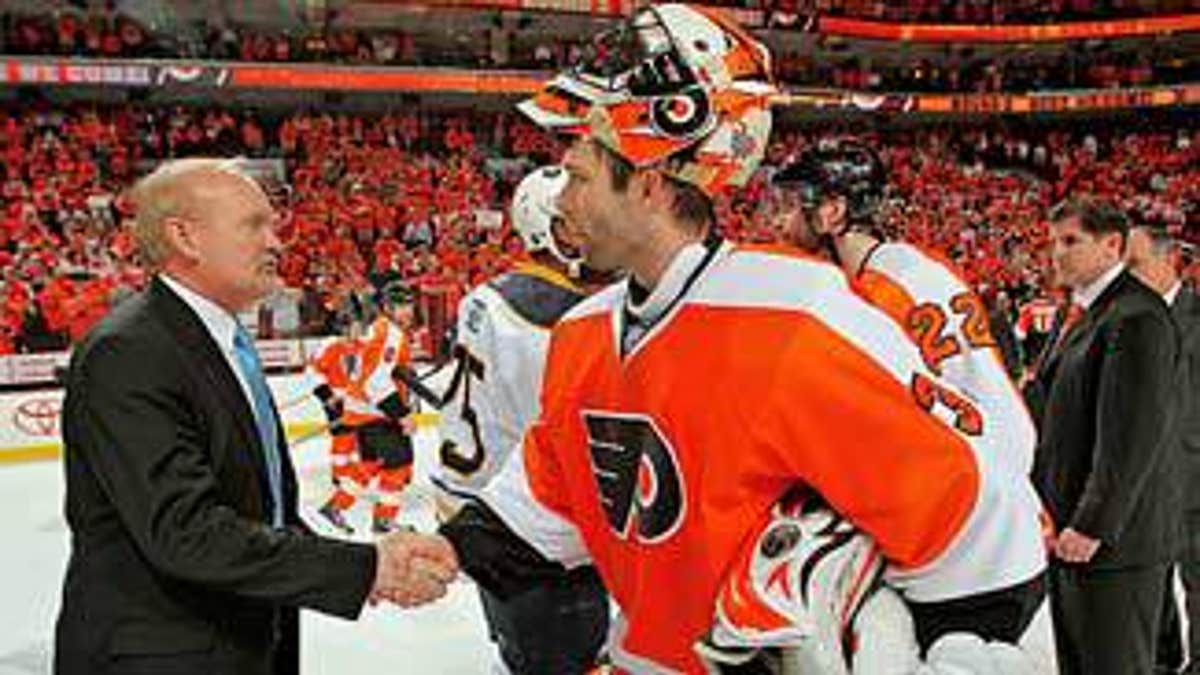 PHILADELPHIA -- This time around, Flyers goalie Brian Boucher would not be denied a Game 7 victory.
As a 23-year-old rookie playing in the 2000 Eastern Conference Final against the New Jersey Devils, Boucher turned aside 16 of 18 shots in a 2-1 loss against future Hall of Fame goalie Martin Brodeur.
On Tuesday, it's quite possible Boucher earned his initial Game 7 victory against another future Hall of Famer in Buffalo Sabres goalie Ryan Miller. Despite playing a part in a curious three-goalie rotation with Sergei Bobrovsky and Michael Leighton in this series, the 34-year-old Boucher certainly saved his best for last in the opening round of the Eastern Conference Quarterfinal series.
"In a Game 7, it goes either way," Boucher said. "It's not like we had a 3-1 series lead and wanted to finish them off. We came back in Game 6, which was nice. But today was a different game. We had to have a good start, which we did. Outshooting them 16-2 in the first was big and we kept going in the second, scored two more goals. We played with the lead today and kept it out of the net early on which was key."
In the process, Boucher actually finished with a better goals-against average (2.10-2.93) and save percentage (.934-.917) than his counterpart between the pipes. But, really, all that matters to "Boosh" is the fact his team earned the right to advance to the conference semifinals.
"It was a crazy series," Boucher said. "It was just nice to win. You play at home in Game 7 and you want to win in front of your home crowd and when you do that, it feels really nice. We will take a little breather here and get ready for the next series. I don't know who it will be but it's just nice to get past this first round."
Boucher was asked if he thought he would have been able to handle a three-goalie rotation earlier in his career.
"When you are younger, it's hard to look at the big picture and put things in perspective," he said. "I think you get caught in the moment sometimes and get emotional. You let your emotions get the best of you sometimes but I have had to deal with adversity a lot during my career and somehow I keep sticking around.
"At the end of the day, you say to yourself, 'Is it that big of a deal, all that stress?' In the end, you are still playing. I try to say that these things will work themselves out and just keep working hard, believe in yourself, and keep plugging away and it worked out this series."
It certainly did in a 5-2 victory as Boucher finished with 26 saves, including 12 in the second period when his team connected for a pair of power-play goals en route to taking a commanding 3-0 lead.
"Brian made some terrific saves when the score was 2-0 and 3-0 in his net and then stayed with it through the entire game," Flyers coach Peter Laviolette said. "He was rock solid for our team again today and he really just calms it down and makes it simple in there."
Flyers defenseman Chris Pronger did his part to help Boucher to his 21st career playoff victory, totaling five of Philadelphia's 28 blocked shots.
"I think we wanted to get off to a better start and allow (Boucher) to kind of feel more comfortable and feel more at ease," Pronger said. "You know, he was very relaxed and focused before the game. That's what you want to see from your starting goalie. We kind of took it from there and started to press. We eventually got to Miller there towards the end of the first and used that to kind of build on in the second period."
Boucher admitted his Game 7 loss to the Devils 11 years ago wasn't really a motivating factor entering Tuesday's seventh and deciding game against the Sabres.
"You don't think about the other game that much," Boucher said. "The other one didn't go so well. That was a bitter ending because that was a chance to go to the Finals. I was anxious today. You wish it was an afternoon game and wish you could just get out there and play. Wouldn't you know it that it was a 7:30 game, which is a late start for us at home so we had to wait even longer. It was a long day but I'm glad it is over and done with and I'm glad we came out on top."
Follow Mike Morreale on Twitter at: @mike_morreale