The play that nearly unraveled Clayton Kershaw again in the 7th inning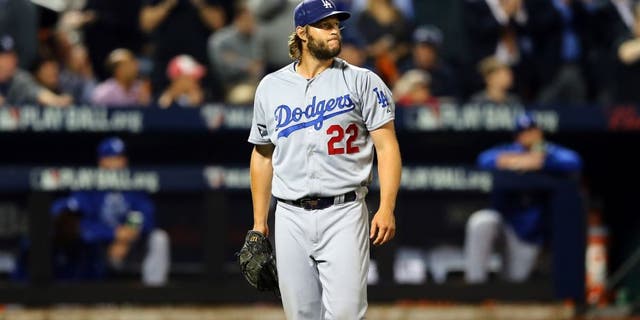 Clayton Kershaw has successfully flipped the script on his postseason narrative with a dominant Game 4 performance, but there was a point in the seventh inning on Tuesday when it appeared as though he would be doomed for postseason disaster yet again.
Heading into the seventh, an inning that has haunted Kershaw in past postseason starts, the 27-year-old lefty was nearly flawlessly, apart from a mistake that Daniel Murphy capitalized upon for a solo home run.
Leading off for the Mets in the seventh was the mighty Yoenis Cespedes. After the slugger fouled off a fastball, he was fooled by one of Kershaw's trademark curveballs, which he caught on the end of the bat and sent a soft chopper down the third-base line.
Because of Cespedes' speed, Kershaw scurried off the mound to field the ball, but botched the play, allowing the Mets to begin the inning with a runner on first.
Your browser does not support iframes.
The moment fit the mold of Kershaw's prior seventh-inning postseason disasters: A touch of bad luck results in catastrophe.
Despite the apparent writing on the wall, Kershaw held his composure and got right back on the mound to face Mets catcher Travis d'Arnaud.
Kershaw got d'Arnaud to pop out to first baseman Adrian Gonzalez, and one pitch later got Lucas Duda to fly out to center.
With two outs in the inning, Kershaw then got some help from third baseman Justin Turner, who made a diving stop on groundball to his left to prevent a potential Mets rally and ended the inning.
Your browser does not support iframes.