The <i>Other</i> Football: The Red Bulls need to make a move before Ronaldinho gets snapped up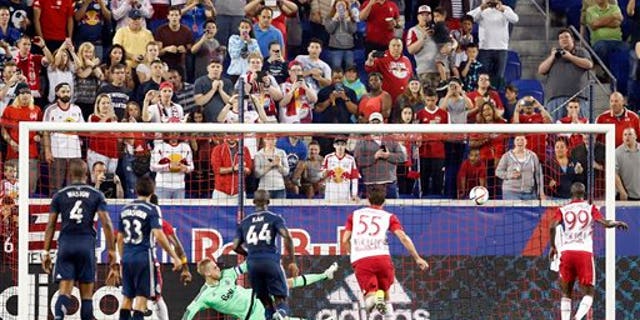 NEWYou can now listen to Fox News articles!
Red Bull Arena, New Jersey – Watching this weekend's New York Red Bulls 2-1 loss to the Vancouver Whitecaps, I couldn't help but reminisce about Thierry Henry and marvel at how badly his former team is missing the Frenchman's presence.
An early red card and two penalty kick misses put the Red Bulls on the back foot against an impressive Vancouver team.
The Red Bulls need a big name player; forget its new philosophy of bringing in younger players at the expense of stars – now is the time, before the fans start getting restless and lose faith in the team.
So the timing of the news that Brazilian maestro Ronaldinho left his Mexican Liga MX team, Querétaro, couldn't have been better.
The 35-year-old Ronaldinho's contract was terminated a year early, but the former World Cup winner still has a lot to offer, and would be positive for the MLS brand.
Ronaldinho reportedly met with Red Bulls representatives when he was a free agent last July, according to the SB Nation blog "Once a Metro."
What's more, Ronaldinho's brother said an MLS move this summer was a possibility, "Once a Metro" also reported.
Now that the Brazilian has left Mexico, the Red Bulls, who seem to have a line to his advisors, should get on the phone and bring him to Harrison in time for the July 8 opening of the MLS summer transfer window – and quick, before some other team like Brazil's Vasco da Gama snaps him up.
The Red Bulls are now one place out of a playoff position in 7th place, one spot above metro-area foes New York City FC, who are on a three-game unbeaten streak.
Having already brought in Spain's David Villa, NYCFC is preparing for the imminent arrival of former Chelsea and England great, Frank Lampard, and now it is about to introduce Italian superstar, Andrea Pirlo.
Thirty-six-year-old Pirlo's artistry has helped teams he's played for win a World Cup, Champions League and Italian Scudetto titles, and his addition to City could help propel them to the playoffs and beyond.
According to a report in the New York Post, Pirlo is now prepared to come to City and a deal could be done as early as Tuesday.
Adding fuel to the fire, he was spotted at a New York Yankees game over the weekend where he spoke to the MLS's team chief executive, Ferran Soriano. NYCFC is co-owned by the Yankees and plays its home games at Yankee Stadium.
While the Red Bulls beat NYCFC 2-1 with only 10 men at their first ever meeting, the teams match up next Sunday at Yankee Stadium and then again in August – at which point the Villa, Lampard and Pirlo trio might be playing together.
It's a move that can only boost the team's profile and potentially cause the Red Bulls to lose fans to the aggressive Bronx start-up if they don't act.
Fox Soccer reports that in his farewell message on social media Ronaldinho thanked the fans of his Mexican team telling them that: "Now I am going to take advantage of the holidays to rest and think about the future!"
A future that the Red Bulls owners should make happen at Red Bull Arena.
Video of the week
My youth team, the Petrides Panthers of the Staten Island Youth Soccer League, celebrated an unbeaten season as they won the under-9 boys' spring league. Well-done to: Adnan, Angelo, Colin, Denis, Eric, Gio, Jacob, Harry, Ian, Isaiah and the two José's, Leeran and Richard.