The 'other' 3 Australian golfers on Maui besides Day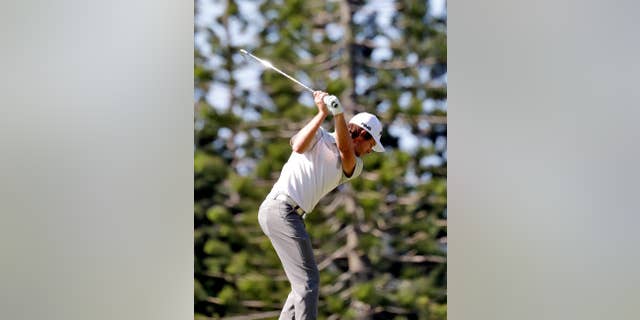 KAPALUA, Hawaii – The winners-only field at Kapalua features four Australians, which is not unusual.
It's who they are.
"Yeah, Jason, I'm surprised he's in here," Rod Pampling said with a laugh.
Jason Day, the No. 1 player in the world, might be the only Aussie in the SBS Tournament of Champions that anyone recognizes.
Pampling has been to Kapalua twice before, though it had been 10 years. He won the Bay Hill Invitational in 2006 for his second PGA Tour victory. The longer he stayed away, the more he had reason to wonder if he would ever get back.
And then he won in Las Vegas, ending a drought of 218 tour events without a trophy.
Ditto for Aaron Baddeley, who had no idea what was wrong with his swing two years ago. He started last season with limited status, got into enough events to find his rhythm and won in a playoff at the Barbasol Championship opposite the British Open.
As for Greg Chalmers?
He had never won in 381 starts on the PGA Tour and had lost his PGA Tour card in 2014. The 43-year-old Australian was playing the Web.com Tour, and the only reason Chalmers got into the Barracuda Championship in Reno, Nevada, was because it was opposite a World Golf Championship. Chalmers has made at least 150 cuts on tour and is classified a veteran member.
At No. 490 in the world, he had the worst ranking of any PGA Tour winner last year.
Showing up at Kapalua, looking down the fairway at the expanse of Pacific and feeling the tropical air on his cheeks was the latest reminder of his victory, and how quickly lives and careers can change.
"This is unbelievable," Chalmers said. "Twelve months ago, I was getting ready to go to Panama, for crying out loud, and struggling to get status on the Web.com."
This is the good life, and they appreciate it more than most.
Chalmers first joined the PGA Tour in 1999, the year David Duval rose to No. 1 in the world and when the Tournament of Champions was first held at Kapalua. He had won the Australian Open and the Australian PGA Championship twice each. Still, it was frustrating to not be able to win on the strongest tour in the world. He had only a pair of runner-up finishes in his career, most recently to Tiger Woods in the 2009 Buick Open.
"Look, what I keep saying is that not everybody wins," he said. "There are 200 guys on this tour and only 30-odd winners every year. We're spoiled with some top players who win multiple times. They make it look easy, but it's not. When you get it done, it's very exciting."
Pampling had not felt the Sunday nerves in America since he finished one shot behind Phil Mickelson at Colonial in 2008. He opened with a career-best 60 in Las Vegas, lost the lead with a 71 on Saturday and then held his own against Brooks Koepka and Lucas Glover down the stretch.
The rest was a blur. Pampling rushed to the airport, arrived home to Dallas in the early morning hours and was up before dawn.
"I watched the tournament — my wife had taped it — and I was double-checking to make sure it happened," Pampling said. "It's daunting to look down at your phone and see that you've got 300 text messages. But man, it's good."
Baddeley once was Australia's brightest young star. He was an 18-year-old amateur who took down Greg Norman and Colin Montgomerie to win the Australian Open in 1999, and he won his national open the following year as a pro. He won three times on the PGA Tour, including at Riviera in 2011. But his swing got out of whack and he couldn't figure out how to fix it until hooking up with Scott Hamilton in the summer of 2015.
The rest was a matter of being patient, even after missing his card at the Web.com Tour Finals last year and deciding to use his past champion's status to get by.
"I thought I could get 11 or 12 starts, maybe get an invite or two, and I was playing well enough to finish in the top 10 and play my way into other events," Baddeley said. "People around me were more stressed than I was. I was like, 'Relax, it's OK.'"
He won in a playoff over Si Woo Kim, and life was good again.
All three Aussies cited the biggest perk as being able to set a schedule as a PGA Tour winner. They don't have to worry about what tournaments they might get in, sometimes only knowing at the last minute.
Pampling is the only one who secured a spot in the Masters with his victory because it wasn't held opposite a bigger event.
And that other perk? Being in Maui to start a new year.
Chalmers was asked if he or Pampling would be more thrilled to be at Kapalua, and it was an easy answer. Pampling had been here before.
"And he already had a (PGA Tour) card," Chalmers added. "But I would say at this stage in our careers, both of us are very, very grateful."