The Latest: Kentucky's Adebayo takes nasty spill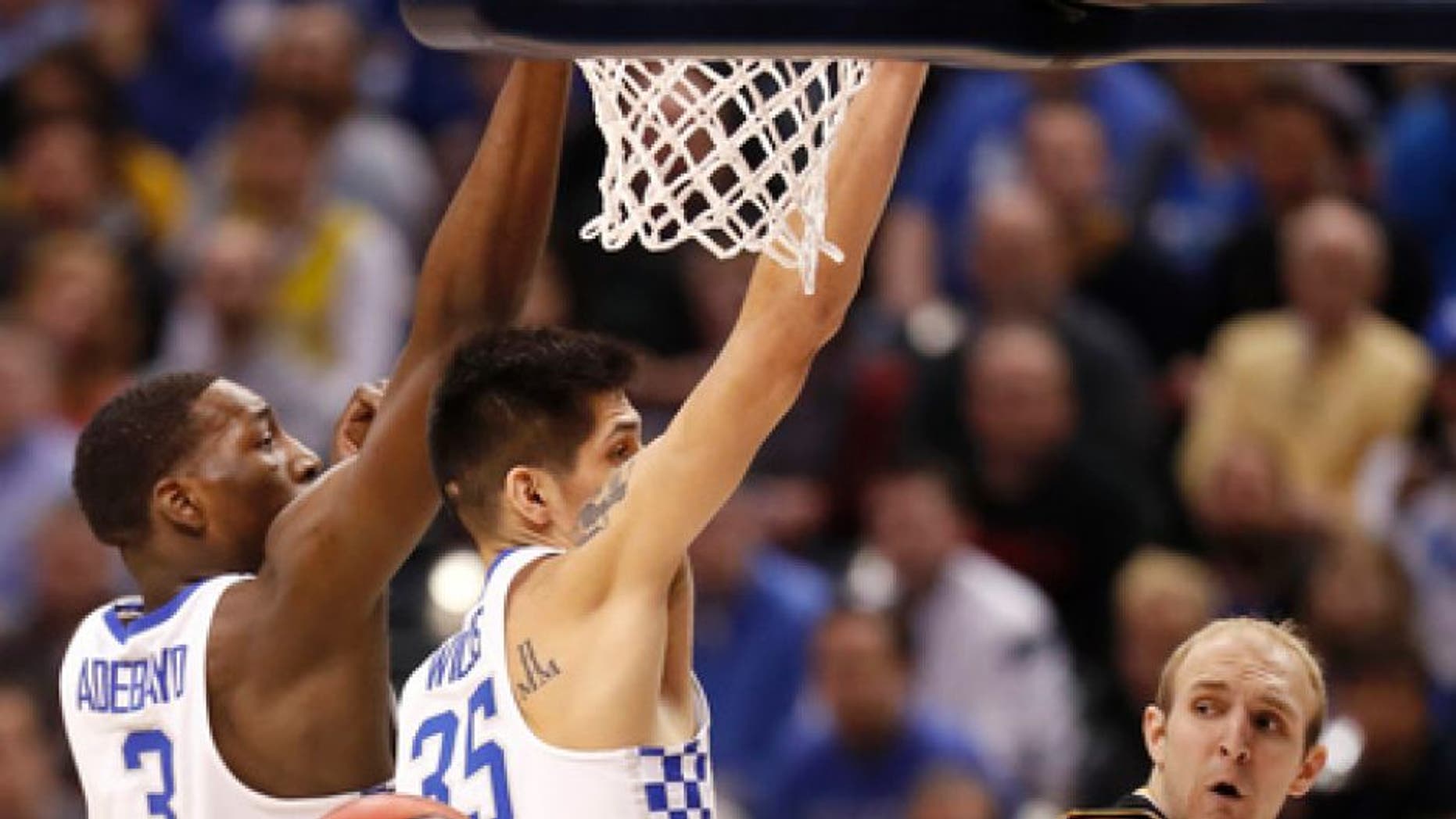 The Latest on the NCAA Tournament (all times Eastern):
4:30 p.m.
Kentucky freshman Bam Adebayo took a nasty spill on his back and stayed on the ground briefly just before the second-to-last media timeout Indianapolis.
After a few moments, Adebayo got up and walked to the bench.
Wichita State's Shaquille Morris was called for his third foul with 7:46 left. Kentucky was leading 48-44 at the time.
---
3:38 p.m.
Kentucky and Wichita State are tangled in a physical game with the Wildcats up 26-24 at halftime in Indianapolis.
The second-seeded Wildcats are shooting 33 percent from the field, and the Shockers 30 percent. Bam Adebayo had 15 points and 18 rebounds in Kentucky's opening win over Northern Kentucky, but he's been held to two points and five rebounds.
It's far different from their second-round game three years ago, which was wide open and ended with the Wildcats winning by two.
---
2:55 p.m.
The Kentucky-Wichita State rematch has tipped off in Indianapolis on a court where bluegrass teams are having a tough time.
Wichita State has the longest winning streak in the tournament at 16 games. Three years ago, the Shockers were 35-0 when they played Kentucky - also in the second round - and lost 78-76. This time, the Wildcats also have a long winning streak going in - 12 games.
Kentucky knocked Northern Kentucky out of the tournament on Friday night, eliminating one team from the bluegrass. Second-seeded Louisville lost to Michigan 73-69 in the earlier second-round game in Indianapolis.
---
2:30 p.m.
Michigan's 73-69 upset of Louisville exemplifies the role reversals between the Atlantic Coast Conference and Big Ten this postseason.
The ACC led all conferences with nine NCAA Tournament invitations and was billed as the best league in the nation this season. The Big Ten had a disappointing regular season and had none of its teams seeded higher than fourth in the NCAA field.
Yet the Big Ten already has sent three teams to the Sweet 16 with Purdue, Wisconsin and Michigan advancing. In the meantime, the ACC doesn't have any regional semifinalists yet and is down to just two teams left in the tournament: North Carolina and Duke.
North Carolina faces Arkansas and Duke meets South Carolina later today as the two traditional ACC heavyweights chase Sweet 16 berths.
The ACC's struggles represent a stunning turn of events for a team that had done very well in March lately. The ACC had four regional finalists last season, including Final Four participants North Carolina and Syracuse. The ACC also sent three teams to the regional finals in 2015, with Duke winning the national title.
---
2:25 p.m.
Michigan's amazing March tournament run is headed to the Sweet 16.
The Wolverines trailed most of the game before pulling out a 73-69 victory over second-seeded Louisville in the Midwest region at Indianapolis. They'll face either Rhode Island or Oregon in Kansas City.
Michigan was in danger of missing out on the tournament entirely before winning its final game in the regular season. The Wolverines had a plane mishap before arriving in Washington for the Big Ten tournament, then won four games in four days for the automatic bid.
Moe Wagner had a career-high 26 points, and D.J. Wilson made four free throws in the final 17 seconds to clinch it.
---
1:10 p.m.
Louisville has taken a 36-28 halftime lead over Michigan by hitting 3-pointers - something the Wolverines usually do.
Donovan Mitchell and Deng Adel hit back-to-back 3s during an eight-point run that closed the half. The Cardinals have held a small lead for most of the game, holding down Michigan's 3-point attack.
Michigan made 18 3-pointers - a school record for the NCAA Tournament - in its opening-round win. But the Wolverines are only 3 of 11 and getting few open shots from beyond the arc. Point guard Derrick Walton Jr. has missed seven of his eight shots and has a pair of fouls.
---
12:35 p.m.
Louisville is getting caught up in the coaching carousel as it plays its NCAA Tournament game.
Arkansas State has announced it has hired Louisville assistant Mike Balado as its next head coach. Arkansas State officials said Balado would be introduced at a Monday press conference.
Balado has been an assistant on Rick Pitino's staff the last four years. He replaces Grant McCasland, who resigned Monday to take over North Texas' program.
This is one of two coaching hires to be announced today. Washington announced it has hired Syracuse assistant Mike Hopkins as its next head coach. Hopkins replaces the fired Lorenzo Romar.
---
12:10 p.m.
Seventh-seeded Michigan and second-seeded Louisville have tipped off Sunday's second-round games in Indianapolis.
The Wolverines are 7-0 this season on neutral courts, with six wins coming against NCAA Tournament teams.
Louisville has made the Sweet 16 in five of the past six years. The lone miss came in 2016 when the Cardinals served a school-imposed postseason for alleged recruiting violations. The Cardinals have been to 21 regional semifinals, the fourth-highest total in NCAA history.
Louisville leads the all-time series 3-0, with one win in Louisville, one in Ann Arbor and most recently in the 2013 championship game in Atlanta.
---
12:01 p.m.
The Atlantic Coast Conference raised some eyebrows during football season by going 10-4 in head-to-head matchups with the Southeastern Conference, which prides itself as the nation's best football conference.
Now the SEC has a chance for payback in the NCAA Tournament.
The SEC already beat the ACC once this weekend, with Florida blasting Virginia on Saturday. Today's action features two more SEC-ACC matchups as South Carolina faces Duke and Arkansas meets North Carolina.
The SEC headed into the NCAA Tournament with an 8-10 record against ACC teams.
The ACC earned nine NCAA Tournament bids to lead all conferences, but it endured a brutal Saturday as Notre Dame, Virginia and Florida State all lost by double-digit margins. The ACC has a chance to redeem itself Sunday as it brings out its heavy hitters with North Carolina, Duke and Louisville all playing. Those three schools have combined to win four of the last eight national championships.
---
The Sweet 16 field will be filled out in Sunday's eight NCAA Tournament second-round games.
No. 1 seed Kansas against No. 9 Michigan State features two top freshmen in the Jayhawks' Josh Jackson and the Spartans' Miles Bridges. No. 2 Kentucky against No. 10 Wichita State is a rematch of the 2014 game where the Wildcats ruined the Shockers' 35-0 season.
No. 2 Louisville vs. No. 7 Michigan play for the first time since the 2013 title game won by the Cardinals. No. 11 Southern California, which meets No. 3 Baylor, tries to stay alive after starting in the First Four.
Higher seeds were 6-2 Saturday. No. 8 Wisconsin bounced No. 1 overall seed and defending national champion Villanova, and No. 11 Xavier ousted No. 3 Florida State.
---
For more AP college basketball coverage: http://collegebasketball.ap.org and http://twitter.com/AP-Top25