The First U.S. World Cup Match In Brazil Turned Memorable In 29 Seconds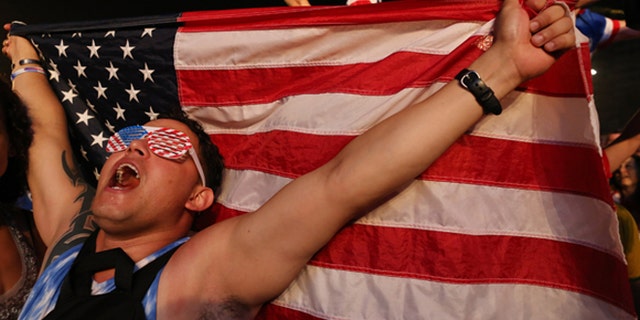 NEWYou can now listen to Fox News articles!
Natal, Brazil – There are very few things in life in which four minutes can make the difference between the depths of depression and the height of ecstasy.
U.S. soccer fans experienced that range of emotions on Monday night at the Arenas das Dunas in the northeastern Brazilian city of Natal, when, after holding a 1-0 lead for the majority of a tightly contested match, Ghana's Asamoah Gyan and André Ayew linked up for what many believed was the end of the U.S. team's hopes of winning the game.
Four minutes later, however, substitute John Brooks lifted U.S. fans out of their moribund state thanks to a well-placed header that put the Americans up 2-1 in the waning minutes of the match.
Bring on Portugal!
The World Cup is like no other event on earth – part sports extravaganza and part international meet-up – and the game in Natal on Monday night proved that point.
Before the match, the outside of the stadium was a beer-fueled United Nations.
Rowdy American fans mixed with a sizeable Ghanaian contingent, the host Brazilian fans in their yellow and green jerseys as well as a hodgepodge of Uruguayans, Japanese and Italians all awaiting their teams' turns to take the pitch in the beachside city.
The scene inside the stadium, however, was all-American … at least it seemed that way sitting amid the support group the American Outlaws. Chants of "I Believe We Can Win" and "U-S-A" deafened the ears, especially after U.S. captain Clint Dempsey scored 29 seconds into the match.

The tension, glory and overall experience of being at a World Cup game is like nothing else on earth.
The tension built throughout the rest of the game, and the temporary depression of Ayew's goal only made the explosion—and relief—after Brooks scored the game-winner all the more urgent.
And U.S. fans' thoughts immediately turned to the next challenge.
"This is amazing," Chad Bruhm, an American Outlaw told Fox News Latino. "Bring on Portugal!"