The Buffalo Bills have no idea what theyre doing at quarterback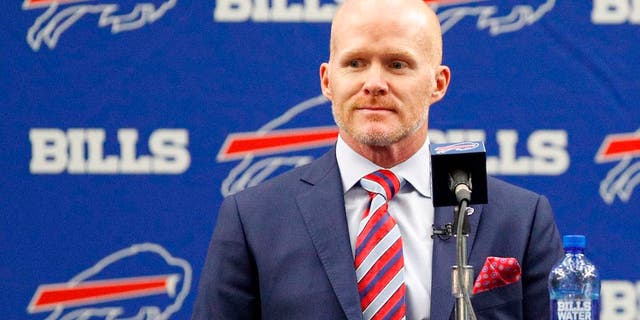 The Buffalo Bills have been one of the NFLs most dysfunctional franchises of the last two decades. They own the longest playoff drought in professional American sports, have had nine head coaches since 2000 and have yet to find a franchise quarterback since the days of Jim Kelly.
Not to mention, they have just two winning seasons since the turn of the century, which is the same number the Cleveland Browns have.
The Bills are hoping to put an end to their mediocre ways this year with a completely new regime. GM Doug Whaley is out and coaches Rex and Rob Ryan are gone, but one thing remains the same: Tyrod Taylor is their quarterback.
Well, we thought he was going to be, but that may not be the case after hearing new general manager Brandon Beanes comments on Monday.
If we walk out there today I would say Tyrod's probably the starter," Beane said on WGR 500 in Buffalo. "But we haven't even gone through OTAs. We've got the young guy [Nathan] Peterman. I thought he did some nice things this weekend at the minicamp. Cardale Jones has a huge arm and talent. I don't know anything about him personally. T.J. Yates has done some starting in his career, so there are some guys on this roster. I'm for open competition. (New coach) Sean (McDermott) is. Earn the right. Whatever job you have, whatever position you're trying to get. I'm not in the business of handing out position on May the 15th. We've got a long way to go. It's going to be fun. I'm excited about the challenge. That's what I'm saying. I've got a lot of belief in Tyrod, but we've got other guys that are going to challenge for that as well."
Beane wasnt the one who signed Taylor in free agency a few years ago, so hes not exactly his quarterback. He was hired as GM last week and is still in the process of examining Buffalos roster, the coaching staff and everything One Bills Drive has to offer.
However, to say Taylor isnt the starter is blasphemous. During his introductory press conference, Beane said obviously Tyrods going to be the starter. One week later, the Bills are going to hold an open competition for the job.
Icon Sportswire via Getty Images/Icon Sportswire (A Division of XML Team Solutions) All Rights Reserved contact: info@iconsportswire.com http://iconsportswire.
Beane might want to let McDermott know about this development, considering hes, well, going to be deciding who will start at quarterback this season. According to McDermott, Taylor is a franchise quarterback a far cry from what Beane had to say about the dual-threat signal caller.
He is, in Tyrod Taylor, McDermott said when asked if the Bills franchise quarterback is on the roster, via the MMQB. And then when you look at the competition we have behind him. Weve drafted Nathan Peterman, weve added T.J. Yates, and then Cardale Jones in the draft a year ago. Im not sure there is a team out there that has the depth that we do at the quarterback position. So we feel good about that. Were anxious to see how Tyrod develops in his third year as a starter in a new system, a system that he has some familiarity with in terms of [new Buffalo offensive coordinator] Rick Dennisons system in Baltimore a few years back with Gary Kubiak.
Theres a wide gap between a guy being a franchise quarterback and a team holding an open competition at the position. Tom Brady is unequivocally a franchise quarterback, soyou dont hear Bill Belichick saying Jimmy Garoppolo will compete for the starting job.
Andy Dalton has been the Bengals starter for the last six years, and while he may not be an elite quarterback like Brady, you dont hear Marvin Lewis saying itll be an open competition with AJ McCarron in camp. That would be insane and likely create a divide in the locker room.
The Bills are a complete mess, and the disconnect between McDermott and Beane has proved exactly that. After just a week together, they dont seem to know who will be the teams starter for years to come, let alone in Week 1.
ASSOCIATED PRESS
Taylor hasnt been the best quarterback in the league the past two years, and he definitely has his limitations in the passing game. However, not only are the Bills absent of a better option, but Jones, Peterman and Yates are all substantially worse than Taylor.
Peterman and Jones are raw and need time to develop, and Yates is a career backup with very little ability to make big plays. Taylor has mostly been restricted to throws outside the numbers, but thats likely to change in Dennisons scheme this season.
Why on earth would the Bills strip him of a chance to thrive in his best situation yet? All to play a mid-round draft pick like Jones or Peterman. Joneshas a huge arm and good athleticism, but he cant read a defense or throw accurately with any sort of consistency.
Taylor had the fifth-best percentage of turnover-worthy throws in 2016 (1.77 percent) per PFF, trailing only Brian Hoyer, Tom Brady, Kirk Cousins and Sam Bradford. In the last two seasons, he threw only 12 interceptions compared to 37 touchdown passes.
If not for Taylor, the teams first Pro Bowl quarterback since Drew Bledsoe in 2002, the Bills would be completely lost at the position.
And yet here we are. Buffalo is continually trying to mess up a good thing by relegating Taylor to a backup role in favor of an unproven quarterback in a pivotal season. If this happens, after the team so wisely restructured Taylors contract, we could see a new low for the 21st-century Bills.