The 6 most heated NFL quarterback battles entering 2016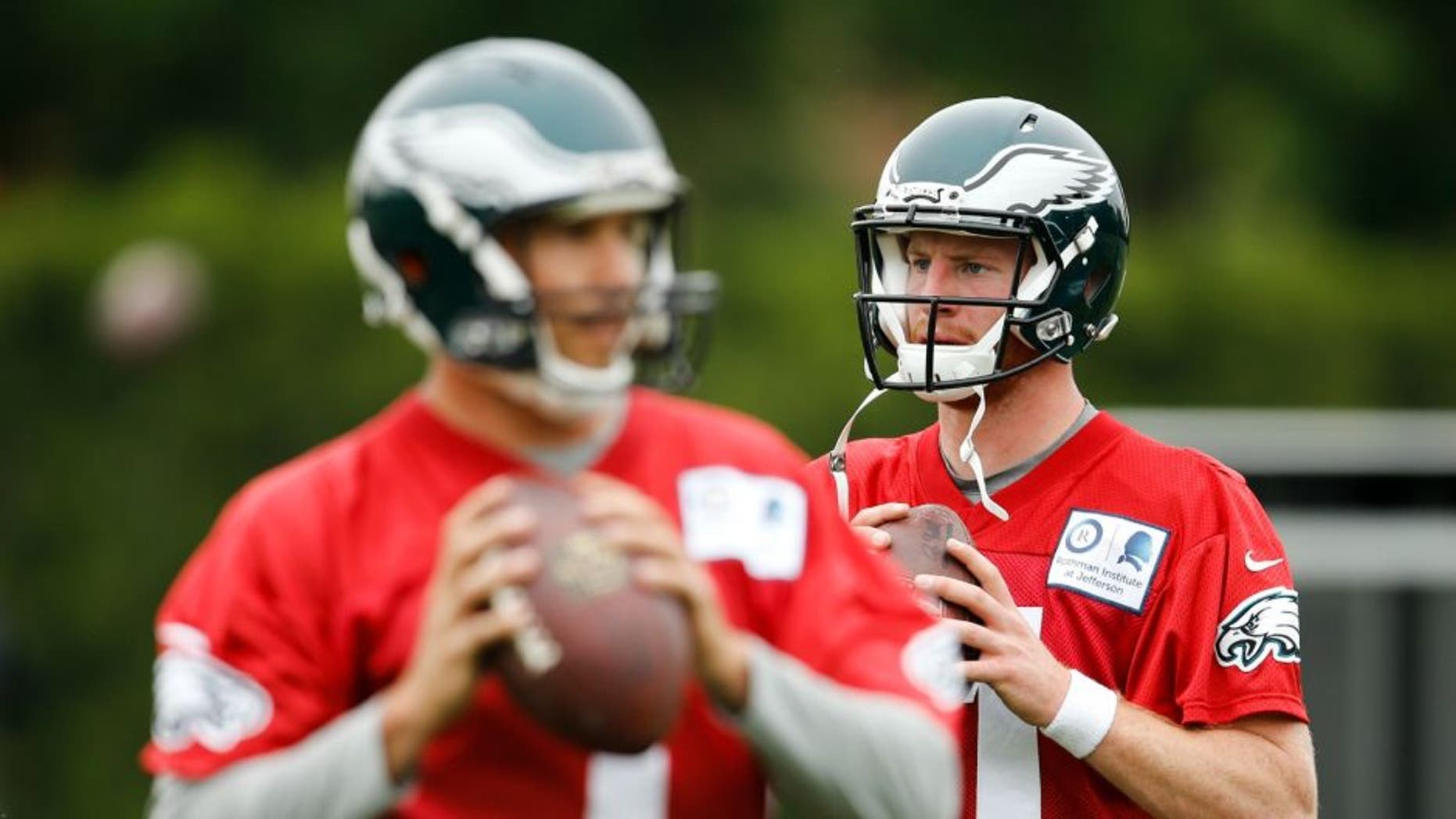 May has come and gone, meaning we're one month closer to the start of the NFL regular season. It also means that OTAs are in full swing across the league, giving teams a first look at their respective depth charts -- both the good and the bad. For the most part, teams know who their starting quarterback will be in fewer than 99 days when the season kicks off, but there are a handful of teams that do not.
With that said, let's take a look at the most heated quarterback battles set to take place this summer ahead of the 2016 season.
The Rams used the No. 1 overall pick in the draft on quarterback Jared Goff, so why is there any competition? Well, because he's not exactly NFL-ready just yet. Goff's frame is a bit small and could stand to add some bulk, and Jeff Fisher seems more comfortable going with an experienced player like Case Keenum, as he typically does with his quarterbacks. And then there's the curious case of Nick Foles, who reportedly hasn't worked out with the team since Goff was drafted. His holdout could make this more of a two-horse race rather than one that includes three competitors.
Keenum is expected to get the first crack at the starting job, but there's little doubt Goff will win it in due time. He's the face of the franchise going forward, and the Rams can't take too much time to see what he has to offer. He's undoubtedly a better arm talent than Keenum, who had four touchdowns and one interception in five starts last season. The Rams need a playmaker at quarterback to open up running lanes for Todd Gurley, and that's what Goff gives them. It will just take some time before he gets his chance.
Outcome: Keenum is the starter for six games before Goff takes over. Nick Foles is traded before the season begins.
Los Angeles took a quarterback first overall, and the Eagles followed suit with the second pick. Like Goff, Carson Wentz isn't ready for the pros at this moment -- less so than Goff -- but he has the physical tools of a player like Andrew Luck. He just needs time to get there, and the Eagles have to be patient with their future starter. Sam Bradford has been pegged as "the guy" by head coach Doug Pederson since Wentz was drafted, but his coordinators aren't so sure that's the case.
Of course, Bradford is the most expensive quarterback on the roster, eating up $18 million of the $30 million Philadelphia has tied to its signal callers next season. That alone gives him the advantage, as does his experience over Wentz and Chase Daniel. He's far from a franchise quarterback, but he showed brief flashes of his past ability as a former No. 1 overall pick. Let it be known that this is Wentz's team; he'll just have to wait for his time. Unless Wentz drastically outperforms Bradford (and Daniel) in practice and throughout training camp, it's going to be No. 7 lining up under center once again in Philadelphia (sorry Eagles fans).
Outcome: Bradford starts seven games before getting injured. Wentz takes over and never relinquishes the starting job.
Another year, another messy quarterback situation for the Browns. This time, it doesn't include Johnny Manziel, which should make it much less interesting given his constant off-field troubles. Instead, it's another polarizing quarterback in the fold: Robert Griffin III. The former No. 2 pick of the Redskins is no longer in Washington after being benched in favor of Kirk Cousins. Now, he's trying to revive his career in none other than Cleveland -- ironic, right? Well, it might just be exactly what he needs.
Alongside Josh McCown and third-round pick Cody Kessler, Griffin seemingly has the advantage at this point in time. He gives the Browns another wrinkle on offense with his running ability, though that remains to be seen following his numerous knee injuries. There's no doubting his talent -- after all, he was taken one spot after Andrew Luck -- but his mental makeup is what's in question. That, along with his frailness on the field. If he can stay healthy and throw with the same accuracy he showed in Washington, Cleveland will be led by RG3, as crazy as that sounds.
Outcome: RG3 wins the job and plays 14 games, missing two due to injury. McCown serves as his backup.
Chip Kelly is no longer in Philadelphia, but he didn't leave quarterback issues with the Eagles. He brought them to San Francisco. The 49ers, once led by the "next big thing" in Colin Kaepernick, have spiraled out of control since Jim Harbaugh left town. Part of that is because Kaepernick went from being a read-option star to a guy who couldn't beat out Blaine Gabbert. Now, he's battling the former Jaguars first-round pick once again. And it's not exactly his job to lose. Gabbert played decent last season, posting a passer rating of 86.2 despite being deprived of offensive weapons.
Kaepernick still offers a dynamic skill set that Gabbert doesn't, but his mechanics have fallen off and his decision making is below average. Unless Kelly can recreate the magic Kaepernick had a few years ago, Gabbert will be the starter in 2016, and maybe beyond. This will be the most interesting battle to watch this summer, mainly because it could go either way.
Outcome: Gabbert beats out Kaepernick slightly in training camp, earning the starting gig.
The Broncos went from having a future Hall of Famer in Peyton Manning and a promising heir in Brock Osweiler, to possibly fielding a Mark Sanchez-led team this season. Denver acquired Sanchez in a trade this offseason, giving the team a fallback plan in the event that it couldn't add an unquestionable starter -- which it didn't. Sanchez will be competing with first rounder Paxton Lynch out of Memphis, who has similar size to Osweiler. The Broncos traded up to nab the rookie in the draft, showing just how much they like him. The only problem is that he's not ready to take hold of an NFL offense.
Sanchez isn't a Pro Bowl-caliber player, and the Broncos know what to expect from him, but will it be enough to lead Denver back to the Super Bowl? Maybe. But it's just a matter of time before Lynch supplants Sanchez atop the depth chart. Lynch has a big arm and superior athleticism, which some believe will make up for his inexperience in a pro-style offense. However, it doesn't matter what outsiders think -- only the Broncos' opinion counts, and it will determine whether he gets the green light in year one or not.
Outcome: Sanchez leads the Broncos to the playoffs after Lynch struggles in training camp and the preseason.
The Jets have three quarterbacks on the roster: Geno Smith, Bryce Petty and Christian Hackenberg. Ryan Fitzpatrick, last year's starter, is clearly missing from that list as a result of his lack of desire to sign with the Jets for their current contract offer. Despite the fact that he's not on the depth chart, he's expected to re-sign at some point this offseason. And when that does happen, he will be the starter. After leading the Jets to a 10-6 record in 2015, he's clearly the team's best option, even though his past track record is less than stellar.
Hypotheticals aside, Smith is the front-runner at this moment. Petty isn't ready to start in the NFL after coming from the up-tempo, shotgun-heavy offense at Baylor, and Hackenberg has his own issues to iron out. The fact that he was a second-round pick proves the Jets have high hopes for him, just not yet. He needs time to sit and develop behind a veteran, ideally Fitzpatrick.
Outcome: Jets give in and sign Fitzpatrick, who starts all 16 games and takes the Jets to the playoffs.