Texas player can't believe Boyd didn't see issue with halftime tweet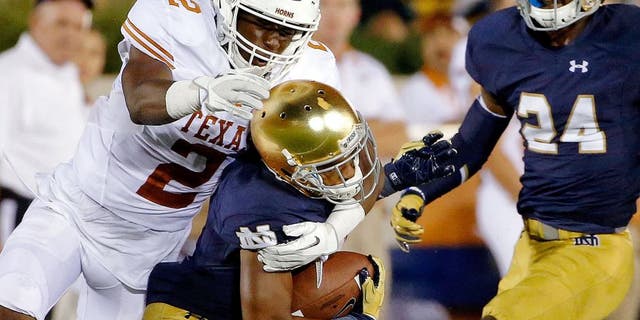 NEWYou can now listen to Fox News articles!
Freshman defensive back Kris Boyd apparently didn't see anything wrong with hopping on Twitter as the Texas Longhorns trailed TCU 37-0 at halftime of Saturday's game.
Boyd retweeted a tweet from an apparent Texas A&M fan who suggested he and fellow freshman Malik Jefferson transfer to Texas A&M. According to senior defensive back Duke Thomas, who spoke to the media during Monday's weekly availability, Boyd said he's always used his phone at halftime.
That didn't sit well with Boyd, who detailed the events with reporters, who then shared it on Twitter.
As the Longhorns' 1-4 season (0-2 Big 12) teeters on the brink with mounting on-field issues and a litany of off-field grievances between players, at least one member of the team was able to keep a level head, and a badly needed sense of humor.
MORE NEWS: Want stories delivered to you? Sign up for our College Football newsletters.