Texans' Wilfork speaks out about Florida police shooting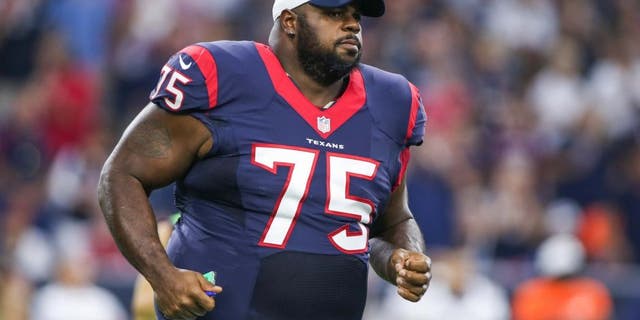 NEWYou can now listen to Fox News articles!
HOUSTON (AP) -- Texans tackle Vince Wilfork is speaking out after a childhood friend was shot and killed by a police officer on Sunday.
Corey Jones, who is black, died after he was shot three times by a plainclothes officer near his broken-down vehicle in Palm Beach Gardens, Florida, according to his lawyers. The police chief has said the officer was "suddenly confronted by an armed subject," but it comes after a number of high-profile cases involving the use of force by police officers against African-Americans.
"I have nothing against (law enforcement), but at the same time you're dealing with somebody that was shot dead," Wilfork said Thursday. "We have to figure it out as a society. Not just this case but the cases that's been going on for a while now. We have to try to figure out a solution. I think everybody needs to be held accountable. Plain and simple."
Wilfork is from Boynton Beach, about 20 miles south of Palm Beach Gardens, and said he was so close to Jones that he considers him family and that he plans to visit his relatives when Houston travels to play Miami this weekend.
"We need to do everything in our willpower to make sure justice is served," Wilfork said.
Wilfork is far from the first athlete to speak out against police violence.
Last year, members of the St. Louis Rams did the "Hands up, Don't Shoot" gesture during pregame introductions to protest the police shooting of Michael Brown in Ferguson, Missouri, and LeBron James and several other NBA players wore shirts with the words: "I can't breathe" during warmups before a game last season. Those were the last words of Eric Garner, an unarmed black man who died in New York after being placed in a chokehold by police.
The 33-year-old Wilfork, who is in his 12th season in the NFL, thought it was important to use his celebrity to shine light on this situation.
"We're going to continue until we get justice," he said. "That's how it is right now. Sometimes we have a platform that we can use for a certain purpose. This week, this is my purpose. To have the platform I have to speak about it."
MORE FROM FOX SPORTS SOUTHWEST:
- PHOTOS: Cowboys Cheerleaders Auditions
- Ranking NFL quarterback salaries
- Highest paid player on every NFL team