Tennessee Titans linemen got very rowdy at the Nashville Predators game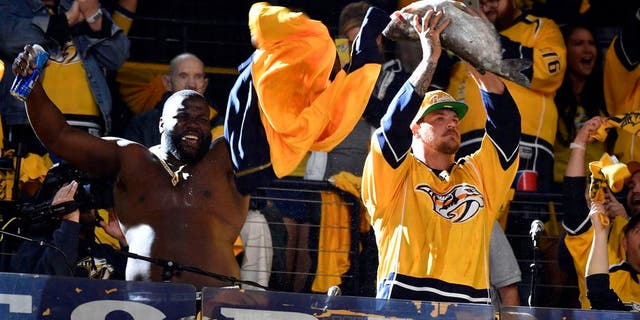 The Nashville Predators hosted their first-ever conference final home playoff game on Tuesday night, and they invited some special guests to celebrate the occasion.
Keith Urban, who sang the national anthem prior to opening puck drop, was in attendance alongside his wife, actress Nicole Kidman. They seemed to enjoy themselves.
However, they did not seem to enjoy themselves quite as much as the Tennessee Titans offensive line.
There's plenty of admirable efforts from that group, but Taylor Lewan is clearly the MVP with his vicious distance-pour. You might notice that quarterback Marcus Mariota isn't partaking in the aggressive hydration. We can only assume he was tasked with driving the offense, as he's been known to do.
Nashville, which certainly isn't known as a hockey hotbed (at least not yet), has broughta rowdy and loud playoff atmosphere all postseason long. It has worked quite well for them.
The Predators have a great team this year -- they currently lead Anaheim two games to one in the West final -- and it's been a lot of fun watching them send the home barn into a frenzy all spring long. It's about time Nashville isfinally getting some recognition for their wild hockey atmosphere at Bridgestone Arena.
Charles LeClaire-USA TODAY Sport | Charles LeClaire