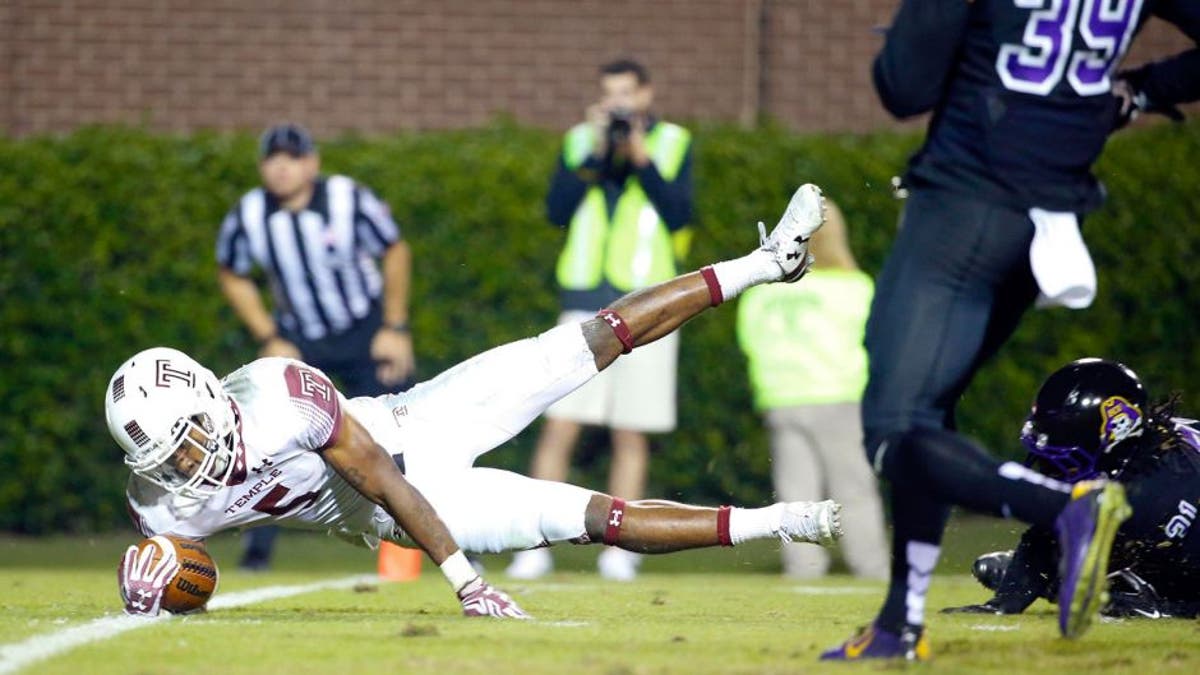 No. 22 Temple finally cracked the Top 25 because of its defense and its ground game. Some timely passing will help the Owls stay there.
P.J. Walker threw a 23-yard touchdown pass to Robby Anderson, and Temple scored 14 points in the fourth quarter to rally past East Carolina 24-14 on Thursday night.
Walker finished 19 of 35 for 250 yards for the Owls (7-0, 4-0 American Athletic Conference). Anderson caught eight passes for 126 yards, with five of those grabs coming in the fourth quarter.
"We just haven't thrown it a ton," coach Matt Rhule said. "We needed to throw it. They were taking away the run. ... We took (Anderson) off the return duties and just said, `Go concentrate on being a great receiver.'"
The Owls ensured their first appearance in national rankings since 1979, and the best start in school history, will last a little longer -- at least until No. 11 Notre Dame visits next Saturday night.
"I told my team in there, `We're all going through this for the first time,'" Rhule said. "I'm going through this for the first time. So we're all making mistakes. But we all love each other, we're battling, and guys made plays."
East Carolina's Blake Kemp was 31 of 48 for 272 yards with a 7-yard touchdown pass to Quay Johnson. Chris Hairston added a 1-yard scoring run for the Pirates (4-4, 2-2).
"They've got to know we've got a lot of season left," coach Ruffin McNeill said. "Temple did a lot of good things tonight. We didn't. We didn't do things that we've got to do to win the game."
Temple's Jahad Thomas ran for two touchdowns, from 2 and 14 yards, the last sealing it with 2:18 to play. The American's leading rusher finished with just 66 yards -- 60 fewer than his average.
The Owls gained 82 total yards while going scoreless on their first five possessions of the second half, before the passing game got hot just in time.
Walker hit Anderson over the middle for 51 yards to the East Carolina 34 with about 5 1/2 minutes to go. Five plays later, they hooked up again, with Anderson slipping past a defender between the hash marks on his way across the goal line with 3:31 remaining.
"We've got guys that are not afraid to go across the middle and make a big play for us," Walker said.
After Temple forced a three-and-out, Sharif Finch blocked Worth Gregory's punt at the East Carolina 15. Two plays later, Thomas iced it with the longer of his two scoring runs.
The Owls forced two second-half turnovers and blocked two punts while occasionally sloppy East Carolina finished with nine penalties for 99 yards and lost to Temple for the second straight year. The Pirates had five turnovers in a 20-10 loss in Philadelphia last season that knocked them from the Top 25.
They were about 5 minutes from getting a little payback on Temple, one of three nationally ranked teams from the American.
"Nothing's going to be easy," Rhule said.
The Pirates came in as 2 1/2-point favorites and led 14-10 after a back-and-forth final 10 minutes of the first half, when the lead changed hands on three straight possessions.
They went up on Kemp's scoring pass to Johnson with 18 seconds left, a drive kept alive by Kemp's 21-yard pass to Bryce Williams on fourth-and-10.
Hairston put the Pirates up 7-3 with his short touchdown run midway through the second quarter. Thomas countered with a 2-yard scoring run with 2:59 before the break.
Austin Jones capped Temple's opening possession with a 28-yard field goal.