Team USA will wear Bills-themed hockey jerseys for outdoor game in Buffalo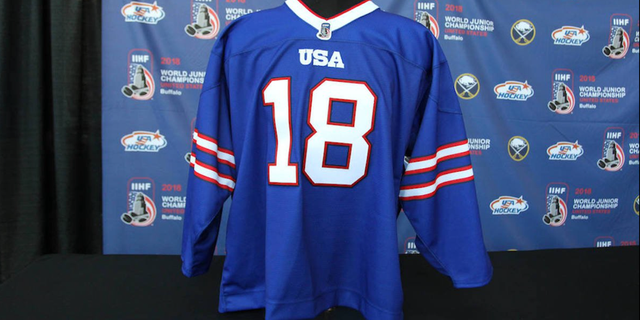 NEWYou can now listen to Fox News articles!
The World Junior Championships is one of the best events on the hockey calendar every year. The international tournament lets fans of the sport watchsome of the best U-20 playersin the world compete against each other for national glory.
For North American hockey fans, the game that's always circled is the annual preliminary round meeting between the USA and Canada.
This year, that game will be held Dec. 29 at the Buffalo Bills' New Era Field (formerly Ralph Wilson Stadium) the first outdoor game in the history of the World Junior Championships.
On Wednesday, USA Hockey unveiled the special jerseys that they'll be wearing in honor of the occasion. Football fans, especially those from Buffalo, will recognize them:
Yes, it's essentially a carbon copy of the Bills' homejersey. Buffalo's red, white and blue color scheme made it quite convenient, and USA Hockey couldn't resistgiving the host venue a proper nod of respect. (Hopefully they have better luck on the field than the Bills have had in recent years.)
It's the second marquee hockey game to be played at the site, as the first-ever NHL Winter Classic was played at "The Ralph"in 2008. Ten yearslater, it will host a marquee international matchup about a month prior to the 2018 Winter Olympics in South Korea. It should be a lot of fun.