Tannenbaum expects Dolphins can turn around quickly with new coach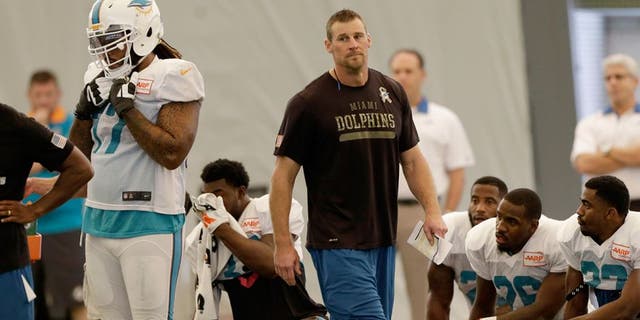 MIAMI (AP) -- Miami Dolphins executive Mike Tannenbaum predicts the impact of the team's recent coaching change will quickly become apparent in its first game under interim coach Dan Campbell.
The Dolphins (1-3) play Sunday at Tennessee, seeking to break the three-game losing streak that led to Joe Philbin's firing.
"You'll see a team that's passionate in all three phases and running to the ball with boundless energy," Tannenbaum said Friday. "If we do that, I think we're going to be fun to watch, and we're going to win our fair share of games."
Tannenbaum, in his first season as executive vice president of football operations, said the team has practiced well for Campbell. A former NFL tight end and the league's youngest head coach, Campbell brings a zeal to the job that many felt Philbin lacked.
"Dan has a lot of energy and optimism and likes to make things fun," Tannenbaum said. "All the attributes you look for in a leader, we think Dan has those."
No team making a midseason coaching change has gone on to the playoffs since 1961. But Tannenbaum and owner Stephen Ross believe a Dolphins turnaround is possible, in part because so much of the season remains.
For that reason, Philbin was fired four games into his fourth year as coach.
"We can still accomplish a lot this year," Tannenbaum said. "We wanted to see if this could give us a shot in the arm. We didn't look at the history of the interim coaches. We just felt like for us, the 2015 Dolphins, that was the best way to go. We can't concern ourselves with history as much as trying to play as well as we can each week. That starts Sunday."
The Dolphins began the season with high hopes of ending a seven-year playoff drought. But they rank 28th in the NFL on offense, 29th on defense, next to last in rushing, and last in points, sacks and run defense.
Even so, Tannenbaum said he still likes the talent on the roster he assembled.
"We're a handful of plays from the season being dramatically different," he said. "You win a couple of games, and all of a sudden things can look different."
With a bye last Sunday, Campbell has had two weeks to prepare, and said his players are ready. What's his biggest concern going into his head coaching debut?
"Not throwing up on my shoes," Campbell said. "I'm very excited. I don't know if I've been this excited since I was a player, you know? Over the last 48 hours I'm getting those goosebumps. I'm getting that feeling in my stomach, and it's a good feeling."