Swoopes holds on long enough for Texas touchdown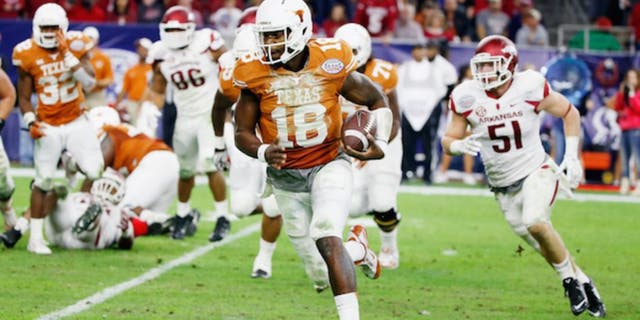 NEWYou can now listen to Fox News articles!
Tyrone Swoopes might have lost his job as Texas' starting quarterback, but the Longhorns' coaching staff hasn't put him out to pasture.
Swoopes continued his success as a short-yardage, goal-line option, and early in Saturday's game at the Cotton Bowl he had to have No. 10 Oklahoma feeling as if it was being haunted by the ghost of Blake Bell in burnt orange. Swoopes ran three consecutive plays inside the 10-yard line, scoring a touchdown on the final play -- barely.
Swoopes had the ball knocked loose as he neared the goal line. The ball bounded into the end zone and was actually recovered by a Texas player in the far corner.
The play went to the review booth to determine if Swoopes crossed the goal line in possession of the football. The on-field call was touchdown, and the review officials upheld the call to give upstart Texas a 14-0 lead over the Sooners late in the first quarter.